almost a month ago now, dave took a day off work (a wednesday) and we visited the northwest washington fair – all five of us. and my camera battery died pretty early on, so most of these photos were taken with my iPhone. thankfully i had already been upgraded to the iPhone 4 by then, so the photos aren't too shabby!
i got this as we left the fair around 3 o'clock: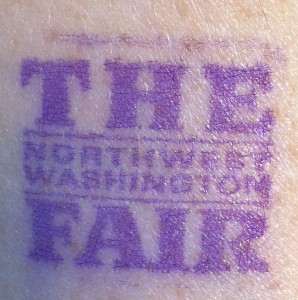 … cuz i was hoping that maybe i'd get to go back that evening. but alas, i did not. sigh. if dave enjoyed the fair, we might've returned for the evening. but he doesn't enjoy it. and i didn't want to go back alone.
we started our day with a visit to the photography, hobbies and collections building. i took lots of photos of quilts, but i'm not sure why. 'cuz we all know that i own a sewing machine ONLY to use in my scrapbooks! we then ventured to some of the animal barns where davey and samantha, as expected, enjoyed the views: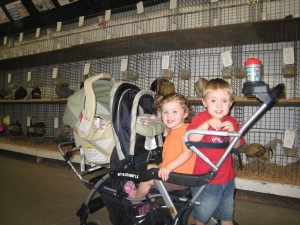 well, not all the animal barns. just the chickens and rabbits. and then i needed lunch but since i didn't want to stop and sit down to eat ('cuz no one else was hungry yet), i bought a turkey leg. a giant, roasted/bbq'ed, yummy, tasty, HUGE, delicious (and salty) turkey leg. i gnawed on it for awhile. i pulled off chunks of meat for each of the kids. and that was our lunch. perfect fair food. no mess for the kids. no need to stop and sit. ahhh! i did feel like i should've been wandering around at a renaissance faire. yep. the turkey leg was THAT huge. i thought i had a photo of it. but i can't find it. maybe it's on dave's phone. but i digress… so while eating the turkey leg we visited the cows and horses. and we saw this little cutie:

he was born the night before. so sweet. so cute. have i told you that i LOVE baby animals? and that little calf was a cutie-patootie!
next up: a visit to the grand stands to enjoy some horses pulling wagons and to watch the Nooksack Riders. then we wandered through the food and flowers building. i love taking a photo like this every year:

then it was time to take a break and feed alex. we stopped in the chess tents (a new event this year?) where alex enjoyed some lunch, i enjoyed a moowich (one of my "must-eats") and dave and the kids chowed on some chocolate covered strawberries (dave bought the Halle Berry… white and brown chocolate covered strawberries!). dave and i enjoyed listening to some teenagers playing some old school music (think: the Beatles) and the kids had a BLAST playing with a life-size chess set: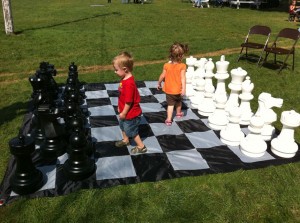 after enjoying the music and the chess set, we decided to walk through the vendor area. i knew we were pushing the limits with the kids, but i wanted to look for a ring. a cool ring. but i didn't find one. i did, however, find a very cool necklace. for only $10. and then it was time for yet another fair treat… a funnel cake. davey and i enjoyed it the most: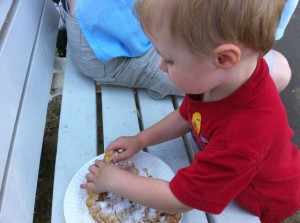 and then, on the way out of the fair, we purchased some cotton candy (blue raspberry) to enjoy later. sadly, i had to forego a chocolate milkshake b/c alex seems to have issues when i eat dairy.
a parting question for you:
what are your must eats at the fair each year?