i found more photos from the mariners game we attended. my friend, Julie, has some good photos HERE. i might have to steal a few of those when i print and scrapbook my photos!
i think i told you in THIS post that the cupcakes audra ordered were huge…. about as large as alex's head. i didn't eat one at the game, but i did take one "to go"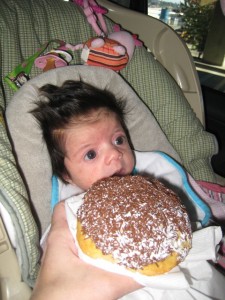 alex and i thought it was pretty tasty! [and now i REALLY want to eat a cupcake!]
here's a cute photo of Susan and I: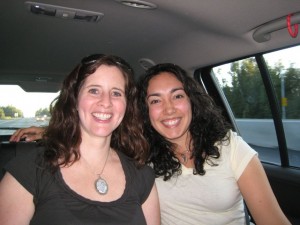 and not really related to the mariners game (other than the fact that this next photo was taken that same day)… Earlier this summer, Logos Bible Software has purchased a new home in downtown Bellingham (see HERE) and they should be moving in sometime later this month. Dave is hoping for a windowed office with a Bay view. That would be a big change from this: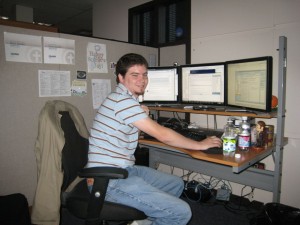 I'm looking forward to delivering tasty treats to the guys (and 2 girls) in the Development Department once they're in their new building! i don't think, however, that i'll be making cupcakes the size of alex's head (i'd have to make far too many to feed to all the Dev employees)!