this photo may be a repeat, but it's so cute that i just can't resist sharing it!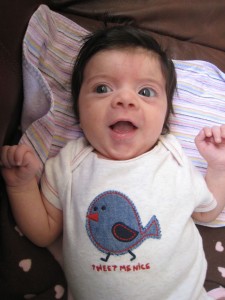 she is such a joy and a delight….. i LOVE this little girl!
we've been keeping (very) busy lately, despite my hopes that life would slow down. for my memory more than for your amusement:
Thursday (16): Bible study began – Alex's first visit to the nursery at church! dave's parents home from their trip. they stopped by to see the kids (and i) while dave was still at work
Friday (17): invited dave's parents over for pizza for dinner
Saturday (18): garage sales, thrift store, tidying and purging around the house (i discovered the show "Hoarders" and am sufficiently GROSSED OUT!) followed by a family trip to Bellingham for dinner at Red Robin and some shopping/returning at the mall. we bought samantha's bike helmet (she INSISTED on the disney princess one, much to my dismay. i really wanted the cute flowered helmet, but it was her choice…..). at kohls, i spent $0.43 to purchase 2 pairs of pants for samantha and a polo shirt for dave (i used $10 kohls cash which i received for signing up for their e-mail list and a $10 off $20 coupon from my discover card)!
Sunday (19): dave missed SS (logos emergency) but we all attended church. accomplished MORE things around the house. had an impromptu dinner at his parents house (dave made burgers for everyone!)
Monday (20): play group at Barb's
Tuesday (21): play date at Cece's house followed by Alex's photoshoot with Carly Tee. rough afternoon with the kiddos so after dinner we all took a much needed walk around the block (and D&S rode their bikes – SO CUTE!)
Wednesday (22): supposed to be a "stay at home all day" day but we visited the grocery store (the kids and i!). samantha continued to be an extraordinarily difficult child. she simply refused to listen and obey ALL. DAY. and she got in trouble for it ALL. DAY.