this is what happens when you let me loose in a room with paper, scissors, photos and other fun do-dads: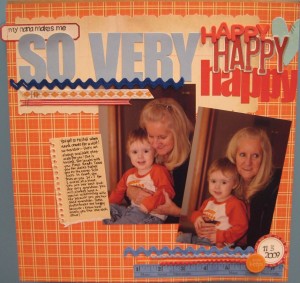 this one still looks a little bare in the upper right corner, so i might go back and add something (like a title?):
i used my new typewriter (from THIS POST) on this layout:
(there's just enough ink left on the ribbon that i can actually USE the typewriter)!
i had fun digging through my "numbers" bin to find some twos… many of these are pieces from decks of cards or other games that i purchased at garage sales or the thrift store this summer: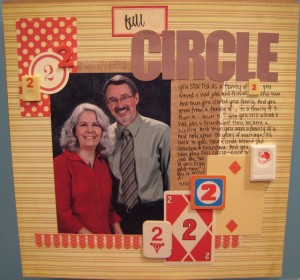 not sure what's up with the coloring here b/c those tickets on the bottom and the arrows on the top are red, not orange, but you get the idea. i wanted to document our bedtime routine with the kiddos since it's something we do ALL. THE. TIME!
the letters for the word "captured" started out a funky green color. i painted them black but my black paint is actually "charcoal" which is more gray and that didn't work for me with this layout, so after painting the letters and letting them dry, i sprayed them with some mist which gives them a cool shine and allows the charcoal color to work.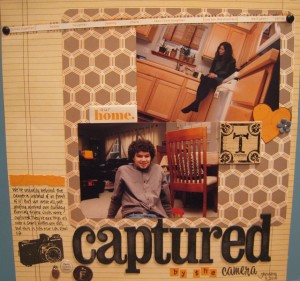 i'm loving that old trim – it was purchased at a garage sale this summer!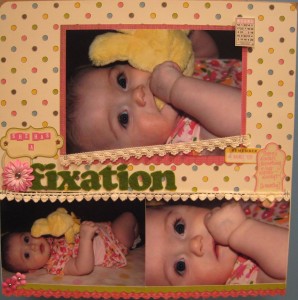 a two-pager?! yep. a two-pager!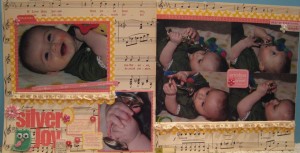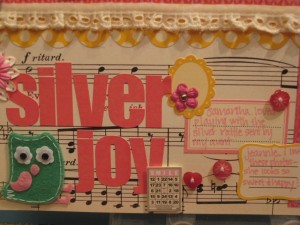 (those three buttons were on a infant shirt that someone gave to me at a sale last weekend).
yep… ANOTHER two-page layout here! i have to add journaling, which is what i plan to do in that large open (aka: "white") space on the left page.