i was up and out the door "early" on saturday morning to visit a few garage sales. (i skipped the sales last saturday and i was going through some major withdrawal)! within 30 minutes of my arrival back at home, we decided to take advantage of the beautiful day (the forecast had called for rain!) and venture up to Artists Point (on/at Mount Baker). the road from the Ski Lodge up to Artists Point is only open for about 2 months out of each year because the road is usually covered in snow and ice and it's just too dangerous to get up there. dave and i hadn't been up there in years (since before Davey was born).
it took us longer to get out the door than we had hoped (dave needed a shower, 2 kids weren't dressed yet, the diaper bag had to be packed, etc.). but we were finally out the door and on our way. we (in inadvertently) took the long way there from our house, so it took longer than we expected PLUS we came across a car that had flipped over (literally upside down) into a ditch on the side of the road. we were there probably a minute or two after it happened because one of the car's rear wheels was still spinning and the three kids (late teens?) were still stuck inside! i did think it was cool that about 7 vehicles (2 in front of us and a bunch behind us) stopped to make sure everyone was okay, to help get the kids out of the car, to call for help (there was no cell service where the accident occurred), etc.
but i digress (as usual)….
we spent about 2 hours up on the mountain. we walked along some trails and the kids did great. they enjoyed the adventure. davey LOVED it up there and was VERY sad when we had to leave. he kept asking if we could go back and play some more. it was cold – dave's thermometer (a keychain on his camera bag) read 50 degrees. and it was cloudy, so we never got an actual view of the glacier of Baker (bummer!) but we did enjoy our wanderings and it was a good foray into some light hiking/adventuring with the kids. we hope to do a lot of more this kind of activity with them when the weather cooperates!
sam enjoyed eating the dirty snow. i'm sure it had some animal pee in it along with all the dirt, but it's SO. MUCH. WORK. to get her to keep things OUT of her mouth! we kept stopping on the trail to make her spit out rocks.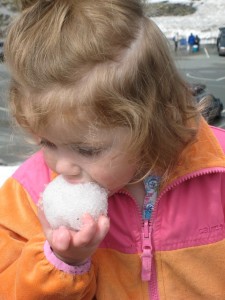 it was an easy trail/path to follow and with a few exceptions, davey and samantha were able to wander along the path and climb "stairs" without any help from us.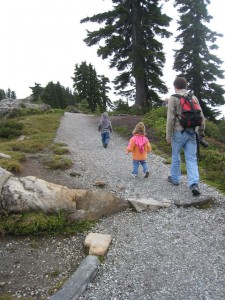 we got a TON of comments from other people up there (it was pretty busy): "those kids are SO CUTE!" "how old is your baby?" "she has SO MUCH HAIR!" "are they twins?" "you're starting them off right," etc. i wasn't expecting to hear the same sentences repeated by so many different people! one lady offered to take a photo of all of us… i wish she'd captured more of the background, but beggars can't be choosers, right?! and i AM grateful to have a photo of all five of us together on our adventure.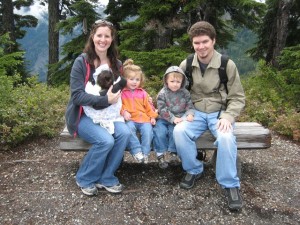 our crazy kids are all-too-familiar with being the focus of attention from a camera or two…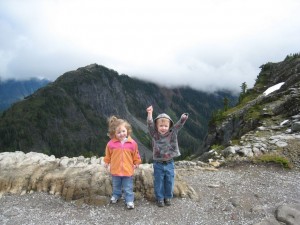 here's a photo of dave and the road below… that's the ONE WAY up (and down) the mountain via driving: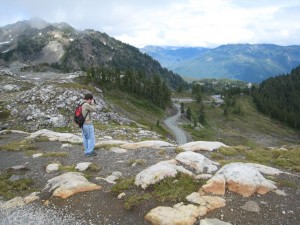 with just a 1/2 an inch separating Davey and Samantha's height and just 2.5 pounds separating their weight, they really DO look like twins. i actually get asked that a LOT (usually at costco and the grocery store for some random reason).
had the weather cooperated a bit more, this would be an AMAZING photo, because there's a glacier there, just in front of samantha… and where all those clouds are above the glacier is the tip of mount baker (which itself is a giant glacier).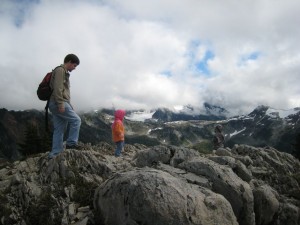 we had to have one decent photo of alex NOT smooshed in the baby bjorn, so this was taken down in the parking lot: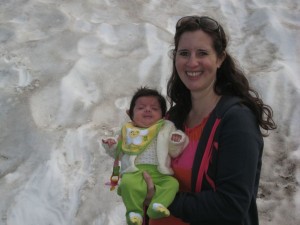 (i love that she's wearing a little yellow sweater that Nana made for davey before he was born – it kept her upper half nice and warm. her poor toes, on the other hand……)!
and here she is, in her car seat for the drive home (this was moments before or after -i can't remember which- a major poo)!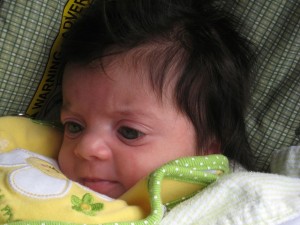 we stopped on the side of the road by the Ski Lodge to take some photos of Mount Shuksan with some cool cloud cover:
i was too lazy to get out of the car to take my photos: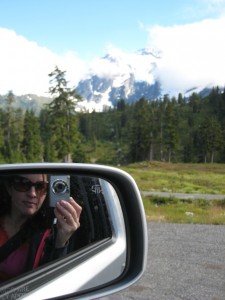 so dave may have some better pictures on his camera!
our impromptu adventure was a complete success. the kids thoroughly enjoyed it. dave and i felt great doing something active and out of the ordinary. the weather was beautiful. alexandra was quite the little trooper – not a peep out of her on the way up the mountain, during our "hike" or on the way back down. we're hoping to have many, MANY more adventures like this in the coming weeks, months and years.