many of you know my story about knowing what days dr. mallory, my doctor of choice, was on call in late june and early july so he could be the one to deliver sweet Baby Daisy. for about 3 weeks, i knew the on call schedule at Bellingham OB-GYN better than the partners did! and, in the end, dr. mallory returned from vacation and his first day back to work was the day daisy was born.
you would THINK that with all my anxiety, prayers, hopes and scheduling insider info, i would have taken a photo of dr. mallory holding Baby Daisy in the hospital. um. oops. didn't happen. right after Alex was born, i forgot. then when he came back to the room, alex was eating. then when he came back again, our families were in the room. i think he even tried ONE. MORE. TIME (he knew i wanted a picture of him with alex) but he never wanted to take sweet alex out of any of our arms after all the stress and uncertainty during the pregnancy.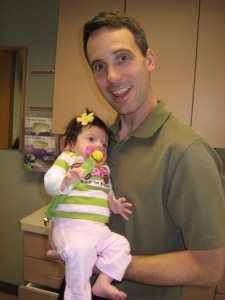 i finally had my post-partum appointment with dr. mallory back on friday, 9/10 (alex was 8 and a half weeks old). he got to hold the little peanut and marvel at the miracle she is. he also complimented me on my weight loss (20 pounds) even though i'm frustrated because i still have another 20 to go!
i was quite upset when i learned that Dr. Tu, my OB doctor for D&S (she even delivered both of them, too!) was moving back to Seattle and would not be around for my third pregnancy. there aren't many options in bellingham (and none in lynden) for OB care, so i felt trapped. and i hoped and prayed that i would like at least one of the four partners at BOGA. for some people, dr. mallory is too technical in his explanations. for me, that was just what i needed (especially with this pregnancy!). additionally, he has a very calming voice and he doesn't seem to get his feathers ruffled too easily – again, just what i needed, especially with this last pregnancy!
while my objective has been to lose weight, alex's objective has been to gain weight. on tuesday 9/14, alexandra had her 2-month well baby appointment with dr. dickson, our family doctor. the big reveal happened on the office scale: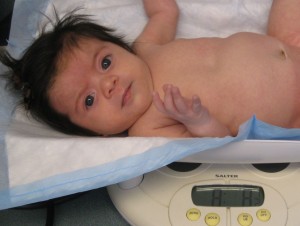 she was FINALLY over 8 pounds! hooray for sweet alexandra! for some general comparison, at 2 months, davey weighed 9lb 1oz and samantha weighed 10lb 10oz. at least early on, it appears that alex is going to grow like her big brother – slowly.