i had a grand time yesterday at the Bellingham antique stores with my dear friend, Julie (my apologies for the VERY blurry photo):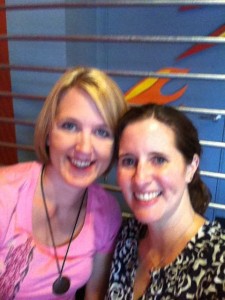 her 4-year old daughter, Elise, joined us, as did Alexandra (who conked out in the B'jorn). D&S were being watched and loved by another very dear friend of mine, Carrilee.
we started at the store on the left: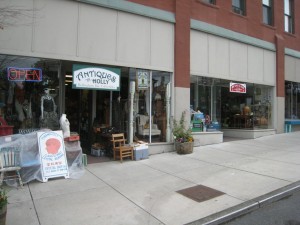 it's a sketchy kinda place where the owner prefers to deal in cash and i'm not so sure if all his income gets reported or what we might be funding when we shop there. but we found an old printers' tray with some metal letters and numbers in it!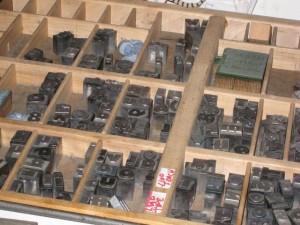 some of these letters and numbers DEFINITELY came home with us!
then we were all excited to head next door to Penny Lane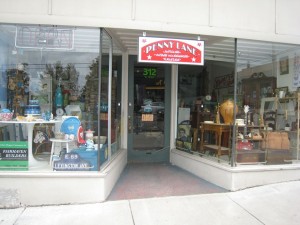 the window displays were SO inviting. and we were CRUSHED to discover that it was closed. there was no sign taped to the door stating WHY they were closed. we were seriously disappointed. we LONGED to walk through those doors into another world of wonderful discovery! but, alas, we had to simply cross the street and visit another shop: Old Towne. we spent a LONG time at OT and there are two purchases i did not make that i am currently regretting. regretting so much that i might have to drive into town (child free) on saturday to make the purchases. because i MUST. HAVE. THEM. and i'm not telling you what they are in case you go snag them first!
downstairs from OT is Aladdin. it's dark and dusty but there were some cool finds. elise loved the fun house mirror attached to the side of a display:
we whizzed through the store, however, since we were running very short on time. i found a cool old photography book but i let julie buy it ('cuz she knows more about photography than i do; maybe i'll find one for dave another day). julie and i both hit major MEMORY LANE at one booth in Aladdin. cool old lunch boxes and old fisher price toys. memories from our childhood!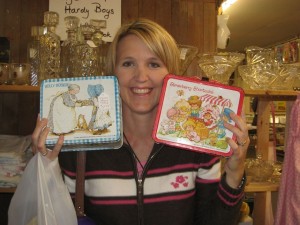 julie and i both think we owned that Holly Hobbie lunch box at one time. i'm pretty sure i had a Strawberry Shortcake one, too.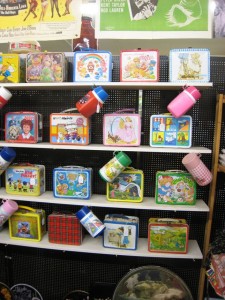 this booth had SO MANY lunch boxes. it was a crazy trip back in time for me. there was even a Shirt Tales thermos… i KNOW i had a shirt tales lunch box!
we were almost out of time for the day so we finished up at Aladdin and walked back to the car… and it was then that i realized i had forgotten to feed the meter. and we got caught: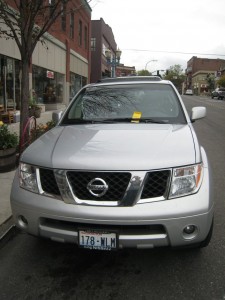 see that yellow thing on the windshield? it's not a flyer announcing some new Hippie Day in Bellingham. it is, instead, a $10 parking ticket, payable to the City of Bellingham. sigh.
we didn't let that ruin our need for an afternoon snack, however. we headed into Rocket Donut to use the restroom, wash our hands and get a tasty treat.
julie and i both had a bavarian cream (they are SO GOOD at rocket donut – FILLED almost to overflowing with that tasty pudding/cream) while elise had a donut with pink icing and colorful sprinkles (one of dave's favorites, too – he calls it the Simpsons donut). alex got to eat, too (but no donuts for her!) and then i let her lie on the floor (on the diaper changing pad) and she was very content: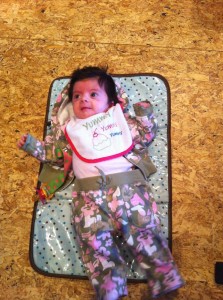 she loves to ride around in the bjorn, but i think she was long overdue for some time to simply lie down and kick and wiggle and look around.
overall, we didn't do too much damage. here's what came home with me: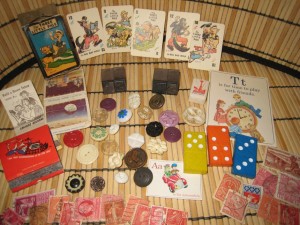 i was a wee bit addicted to buttons and i hand picked every one of those. the stamps were all in a bag together and i thought they were fun. i fell in LOVE with those Three Little Pigs playing cards. the instructions inside the box are dated 1946. and do you see that sugar cube with the seattle space needle on it (on the right side next to the "T" card)? that's from the world's fair in 1962. i kid you not. i plan to throw away the cube but keep (and use) the wrapper.
and now we have to coordinate our schedules so we can make a trip downtown again to enjoy a visit to Penny Lane…..