yesterday (the 13th) Alexandra turned 2 months old. it feels like she's always been here. we've settled into life with three kids quite successfully (not easily, mind you!) and it's hard to remember what life was like before this sweet girl made her arrival.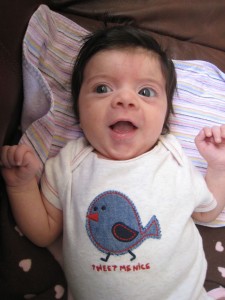 -  8 lbs 8.5 oz (5th%) and 22 in (50th%)
- got 3 shots and 1 oral vaccine at today's appointment. poor, sweet little girl!
- can smile
- laughed once for dave (i haven't heard it yet)
- has JUST moved from newborn to 0-3 month clothing
- is wearing Huggies diapers size 1-2 (for less than a week!)
- typically sleeps from (approximately) 8 p.m. to 2 a.m. * eats every 3-4 hours during the day
- has not yet taken a bottle. hopefully this will change soon!  ;)
- experiences her fussiest (by far!) time of the day beginning around 6:30 pm until (finally) falling asleep
- sneezes (twice in succession) at least once a day
- has horrific cradle cap
- had a bad bout of baby acne that lasted for 2-3 weeks
- sometimes will tolerate a bath – most of the time hates it
- has only lost about 5 strands of hair
- loves to spend time in her swing
- loves to be upright (so she's happy riding around in the baby bjorn)
- seems to be an easy and content baby. she goes with the flow. takes all the kisses (and there are LOTS of them) from her brother and sister.
- on occasion, can be really difficult to burp
- i think her eyes will eventually be like mine and davey's – "hazel" with lots of blue and grey
- has stolen the hearts of our entire family
we all love you, alexandra, and are so thankful to have you as the perfect addition to our family!