our epic, multi-family garage sale was on friday & saturday. set-up on thursday night was overwhelming and terrifying for me. i shed tears. quite a few of them. we had so. much. stuff.
i wish i had taken a photo on friday morning from the top of the driveway down to the bottom (or vice versa), but i didn't. we had about 10 tables (or was it closer to 15?) set up along the edges and down the middle of the driveway. PLUS we had hanging clothing racks for 95% of our clothing and bedding. and there were 2 cribs, 2 exersaucers, 1 jumperoo, 2 office chairs, 1 desk, 1 coffee table, about 6 strollers, a TV, multiple larger baby & toddler & kid toys, and so much more stuff that didn't fit on the table tops! we don't even need to talk about how many 100s of books we had or how many sets of Little People toys…
here's a look at the clothing rack on day 2 (on day 1, the whole front side of the rack was stuffed full of baby and toddler clothing):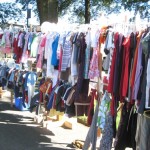 and here's a look at Carrilee and Karla: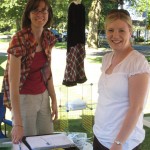 those photos were taken near the end of the sale on saturday. carrilee sold a few items, but helped us both days. the whole time. and she was tireless – always up, moving something, tidying something, talking with someone, selling something. i honestly do not know WHAT we would've done without her help!
on thursday night, karla and i were both thinking "this is the last garage sale we will ever do." we were both overwhelmed. completely. (it has NOTHING to do with having babies just 5 weeks ago, right?). neither of us slept much on thursday night (i got 3.5 hours). but then we got our friday sale tallies and we started saying thing like "next year…"
so all-in-all, the sale brought in about $2500 over two days for 10 different participants. our cash box was about $15 short and we had one $36 check bounce. not too bad.
wanna know what i learned?
1. don't bring a 4-week old baby to set-up in the evening – it's too stimulating for them.
2. be more clear about letting people sell stuff (aka: all participants have to be okayed by those in charge of the sale).
3. if a full "shift" can't be worked by each seller, then they have to give up 30% to those who are working. if you can only work a 1/2 a shift, you have to give up 15% of your sales to those who are working full shifts.
4. everyone has to pick up their own items at the end of the sale – AND STICK AROUND until ALL things are cleared away (tables, a run to the thrift store for donations, trash removed, etc.).
5. if taking local checks, the person who has to cash them gets 10% of the check value b/c they have to go to all the banks to cash the checks (this takes time, energy AND fingerprints & ID)!
6. clothing sells best if it's hanging. all of it. and if it's clearly marked.
7. make sure things are labeled clearly. sale items and signs. (masking tape works great b/c it doesn't fall off most items – esp. clothing!)
8. if there are two sides to your clothing rack, make sure it's clear to shoppers that there are items on the other side of the rack!!!
9. if the sale is 2 days, it's okay to say "no deals today b/c it's the first day of the sale." prices are as marked. and people will still buy the items. 99% of the time, anyway.
10. don't feel bad roping off the area and saying "no sales until we open." it will help save your sanity.
11. make sure someone is ALWAYS by the cash box. and make sure the cash box does not contain ALL the cash (shove 100s, 50s and stacks of 20s into a deep pocket in your pants).
12. do not, no matter HOW busy you are, leave the cash box open. in our area, the migrant kids will try to take money out of the box (we had it happen).
13. have someone frequently check on the clothing – moving things to the correct size section, picking up fallen clothing, etc.
14. walk the sale frequently to tidy tables and keep things looking orderly and organized.
15. have plenty of bags available for purchases.
16. have a canopy over the cash box/check out area. it's easier for people to see and it keeps you out of the sun/rain.
17. place your check out station in the middle (off to the side) of the sale so you can best see your items and keep your eye out for theft.
18. set-up and/or assemble items so they sell better (strollers, cribs, storage racks, tents, large play structures, etc.)
19. be hyper-organized with signs for tables, buckets of items being sold, check-out lists, IOU slips (for the different sellers to buy and sell items from other people involved in the sale), etc.
20. do an ad in the newspaper, on craigslist and place signs around town. it's all money well spent.
21. remember to be nice, to smile and talk with people.
i'm sure there's more, but that's plenty for now. i'd love to hear any tips you've learned over the years (either from hosting or attending sales)!