though my husband is a wonderful photographer, it's hard to be the photographer and take photos of your own family if you want to be included in those photos! so on saturday morning we met with my dear friend, Carly of Carly Tee Photography at Lynden City Park for a family photo shoot.
The weather was a little crummy (we won't talk about how nice it got in the afternoon) and i don't know WHAT i was thinking by trying to have a family photo shoot with a newborn and all my baby weight, but we had a great time and it was SO GOOD to see Carly again. we were supposed to do Alex's newborn photo shoot after the family shoot, too, but she came down with a bad case of baby acne, so we're rescheduling…. which means i'll get to see Carly again soon!
As a favor to us (as part of a project for a friend), Carly sent us one of her favorite shots immediately. Later this week she'll have a sneak peek on her blog and then we'll get a DVD in the mail with lots of photos. So here it is, the very first photo we've ever had of ALL FIVE OF US: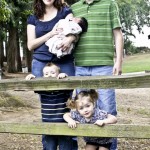 thanks, Carly, for the great morning, the tasty snacks (that were part of the photo shoot) and for being such a wonderful friend!