Alexandra at (approximately) ONE MONTH:
- hopefully over 7 pounds by now (won't know her official weight until 2 months)
- stil has a full head of hair (hasn't lost any yet)
- still has DARK hair (though in good light you can see some brown in it)
- eats well (and quickly – usually on 20 minutes to eat – though burping is another story!)
- sleeps well (she's already provided one 8-hour nighttime stretch!), though she usually eats every 3-4 hours
- is calmed when i play with her hair or lightly stroke down her nose
- cries if she's hungry, needs to burp or has a poopy diaper
- doesn't seem to mind the extra attention and love she receives from Davey & Samantha
- is (thus far) the easiest of all our babies
- still wears newborn diapers and clothing
- her umbilical cord took FOREVER to fall off (night of 7/31 or morning of 8/1)
- has already celebrated 3 birthdays with 3 parties (Davey, Daddy and Uncle Jeff)
- has attended the Raspberry Festival, church, play group, Daddy's company picnic at Hovander Park, a semi-pro football game (Bellingham Bulldogs), garage sales, and an extended family fire at Birch Bay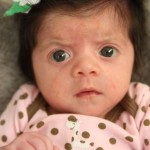 - has already visited Daddy's office (once) and Treasury's warehouse location
- prefers to be upright and will likely enjoy riding in the Baby Bjorn (D&S loved it, too)!
- prefers the $5 bouncy seat i purchased at a garage sale to the vibrating seat borrowed from a friend
- looks good in lavender/lilac colors
- might end up with green/hazel eyes (like mama and Davey)
- does seem to be bothered when i eat chocolate, dairy (especially ice cream and cheese) and peanuts or peanut butter
- seems to enjoy sucking on a binky, but only the latex nippled Nuk brand ones
- is beginning to smile
- is beginning to focus on objects and people
- still sticks out her tongue – A LOT
- has survived being picked up by her older sister (yes, 21-month old Samantha picked her up off the ottoman – thankfully Dave saw what was going on and was there to intervene before anything bad could happen)
- likes to be swaddled
all-in-all, we can't imagine our family without this sweet, miraculous bundle of joy. she's our precious gift from God. and tomorrow (saturday) we're FINALLY going to get some family photos (we still don't have ANY pictures of all 5 of us together)!