six years ago today, my gram passed away. the only grandparent i can really remember (my pop pop, her husband, died when i was in 1st or 2nd grade). it's hard to believe it's already been 6 years. at the same time, it's hard to believer it's only been 6 years. i miss her a lot. for the first 3 years, i thought i saw her – perhaps just glimpses of her – everywhere i looked.
i still remember my weekly "sleep overs" with her before i moved across the country. i'd go visit her after work. she'd make me dinner. i'd clean the dishes and her bathroom. then we'd play games – Parcheesi and/or Rummikub, watch a movie and go to bed. She'd pack me a lunch (of left overs) the next morning and I'd go to the office.
when she passed away, i inherited a few things: my pop pop's coo-coo clock and my gram's wooden spoon. my cousin, janet, inherited the much-coveted schoolhouse cookie jar: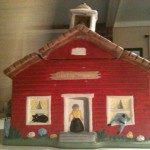 i will NEVER forget about this cookie jar. it usually had Chips A'hoy chocolate chip cookies in it – my FAVORITE cookies as a kid.
she never met any of my kids. (samantha is named after my pop-pop – he was Samuel James) but i am thankful – oh, so very thankful, that she was able to attend my wedding. to meet my husband (and she granted much approval over him!). and that i was able to spend some time with her in her final days.