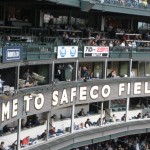 for the past several years, i've been asking dave to take me to a baseball game… the Seattle Mariners. back when i was still single, my roommate, christy, and i were late to church (or was it work?) one day because we were watching tv – we were watching the city of seattle blow up (or down?) the kingdome (which wasn't yet paid off…. but don't get me started). then they built this new stadium… and it's pretty darn sweet.
earlier this month, dave received an e-mail invitation from his boss (the owner and CEO of logos bible software!) to join him, his wife and a number of other colleagues at a Mariners game… in a private suite! we responded immediately. i fear, however, that i am now forever spoiled with regard to attending a baseball game. a private suite? a hamburger bar (including hot dogs, pulled pork, bbq spare ribs, bbq baked beans, potato salad and caesar salad) plus appetizers, nachos and then cupcakes and brownies and cookies? plus popcorn and peanuts? quite nice. yeah, i'd say quite nice.
here's the view from the outside of the suite, overlooking the field:

and this is the view from inside, looking through the folding windows (that were open) to the outside: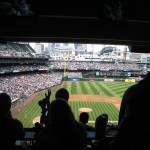 it was a beautiful day, a quick game (the mariners lost 1-0 to the minnesota twins) and a fun activity for the Dev. Leads (development – aka: the computer geeks, as i lovingly refer to my husband) and their wives. many thanks to bob and audra for hosting such a fun event!
bob & audra: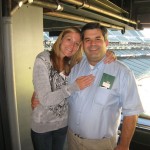 dave, tam and alex: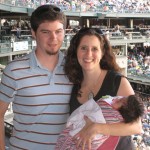 bradley & susan: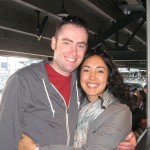 the rode down with us. and i must point out that susan works in development, too. so they are a pair of computer geeks. but she's also girlie and likes to shop and we get along well!
ed & julie: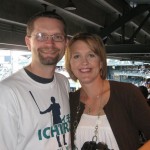 you've met julie a lot over the past few months. and we finally got a decent photo of us together: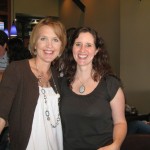 jimmy & hillary: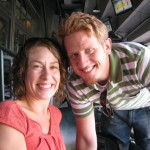 (dave used to be jimmy's boss when they worked at DIS. and then jimmy left. and then dave joined him at Logos and jimmy was dave's boss. now bradley, i think, is dave's immediate boss).
(and my apologies to the other couples who attended and i did not take your photo – it was not intentional!)
the view inside the suite: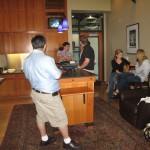 pretty nice digs, eh?
and i must admit, i know almost NOTHING about baseball. and the only name on the mariners' roster that is familiar to me is Ichiro. but i do know that it was ALMOST an epic day. an infield hit by Ichiro would have been some big deal (my friend julie knows the details here) so when he was up to bat the entire stadium waited… but we were not meant to witness baseball greatness, apparently. but i snapped some photos of him at bat, just in case he DID make his grand hit!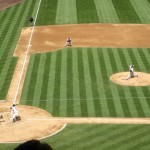 all-in-all, it was a wonderful day. and now i can stop bugging dave to take me to a mariners' game!