since we thought for SURE baby daisy would make her appearance over the holiday weekend, we didn't plan any activities to celebrate the 4th. on saturday, we had an impromptu picnic at dave's parents house and it was fun. and filling. then, on sunday evening, we pulled out some sparklers (left over from last year) and a package of bumblebees (purchased that day at a local stand). it was a COLD 4th of July, so we had to layer-up to be outside even just for 20 minutes!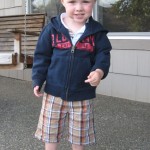 before i got outside to enjoy the show, davey held a sparkler and burnt his finger (barely) so he was pretty much done with sparklers at that point. i, however, had some fun with them…. even though i started to fall off our front porch:
after the sparkler "incidents" it was time for dave to move to the street to light some bumblebees while the rest of us watched:
samantha was DEFINITELY more impressed this year (see photos above) than last year (see photos below) with Dave's fireworks show! :)
and this photo was taken last year on The 4th of July… it's still one of our favorite family photos!