meet my friend Karla: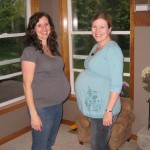 she's (obviously) pregnant, too. in fact, her due date is the day before mine. and she lives down the street. and we go to the same church and play group. and we both love to go to garage sales and shop for things on craigslist. and this is her final pregnancy, too (her daughter is 4 and her twins are 15 months old). she's having a boy. she was on bed rest earlier in the pregnancy. we're almost the same age (i will not tell who is older or by how much). we have the same OB doctor. she's scheduled for a c-section on July 13, though she hopes to go into labor and deliver naturally before then. but who knows… we may end up in hospital rooms next to each other!
thanks, Karla, for listening to me, sharing with me, commiserating with me and everything else. i look forward to next summer when we sit in your fenced-in back yard and watch our SEVEN kids run wild! :) thanks for sharing these crazy months with me!
[on a side note, i've already gained 40 pounds with this baby. that's the most yet!]