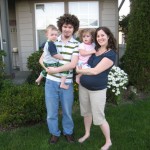 i had my mom take this photo of us on Wednesday night (6/30)… it's potentially our final "FAMILY OF FOUR" photo. dave and i thought FOR SURE we'd be headed to the hospital by Thursday morning. or Thursday afternoon. or Thursday evening. obviously, we were wrong. we still have hope for Thursday night, though it doesn't appear to be likely.
this pregnancy is SO DIFFERENT for both of us. we've never experienced this *waiting period* before. this past tuesday (6/29) marked 37 weeks of pregnancy for me. i've never made it that far. and after my doctor's appointment that day, i thought for sure that i would have delivered Baby Daisy within a day. my "goal" of June 30 or July 1st seemed so FEASIBLE. so do-able. not any longer.
so for now, we continue to wait. today, in an effort to "hurry things along," i went to two grocery stores. and i spent a good 5 hours in my kitchen (standing) making entrees to add to my freezer (3 dinners of pork and 8 dinners of chicken). and here i am, at 9:22 p.m., still pregnant. no contractions. and seriously wondering WHAT my little girl is doing inside of me! i did learn, however, that my doctor had to trade an on-call shift, so he'll be on again tomorrow afternoon/evening, so i still have hope that Dr. Mallory will be able to deliver my sweet girl who is defying ALL KINDS of medical odds.
ultimately, there is an END IN SIGHT. the latest i'll remain pregnant is 39 weeks, as my OB's office has advised they would induce me at that time. the very thought of making it that far seems 100% unbelievable to me. but then again, so did 37 weeks of pregnancy! it seems like it was just yesterday when we were worried about having a preemie at 32 and 33 and 34 weeks…
i'm wondering if it (this "lingering" pregnancy) has anything to do with the months of vitamin D pills i've been taking? could that be the major difference why this baby is staying in my body when ALL THE SIGNS pointed to me delivering her VERY early?!