just a week ago, this little girl entered our life: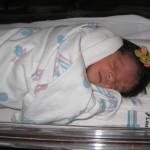 and she spends most of her day sleeping.
in case you're wondering, th LOVE her:
… or in Davey's case, "i yuv and yike her" (meaning "i love and like her"). and samantha can often be heard asking "baby? baby?" as she wanders the house searching for her baby sister.
on wednesday, we left the hospital and headed home. it's always good to be home after being away, but there's something especially wonderful about HOME after being in the hospital. we learned that alex likes to WAKE UP around 9 p.m. (when i'm starting to think about bed) and she stays awake until about 2 a.m. so yes, i am exhausted. but it's all good. she's worth it. though at about 1:30 each morning i'm not so sure i would admit that!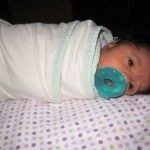 we also learned that she LIKES to be swaddled. tightly. many thanks to my friend Sarah Saunders who sent us the Miracle Blanket (seen in above photo) back when Davey was born. it really does work miracles!
on Thursday (15th), we celebrated Davey's THIRD birthday. He tells ANYONE who'll listen (and even people who won't) that "i'm this many" as he holds up one hand with 3 fingers. his big gift this year came from us and it's a Strider bike. it has no chain and no pedals and kids are supposed to use their feet to push themselves along (what most kids do before they learn how to pedal anyway). the idea behind the bike is kids learn to balance and will not need a "regular " bike with training wheels. by the age of 5 (if not sooner), davey should be ready to move up to a regular bike. since we'd only been home from the hospital for a day, we simply enjoyed a quiet meal (chicken strips, french fries and mac&cheese) at home. and then we made an impromptu ice cream sundae (complete with a candle) for his dessert.
on Friday we noticed that alex has some jaundice, so we put her in the sun that was shining through the living room windows: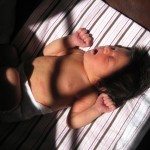 we had hoped this would make enough of a difference in her jaundice level. we had a home visiting nurse stop by and after weighing alexandra, we learned that she had a 12% weight loss (from her birth weight). NOT a good thing.
additionally, alexandra experienced her first bath at home (in the kitchen sink):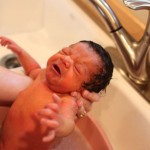 on saturday we visited the Raspberry Festival in downtown Lynden. we enjoyed pulled pork sandwiches, local ice cream & fresh raspberries, antique cars, tractors, vendors and more. the kids, however, most enjoyed the bounce house:
they both cried when it was time to leave the house. thankfully there should be one at dave's company picnic next saturday, so they'll be able to jump and bounce to their heart's content (for free!) once again!
sunday brought about alexandra's first trip to church: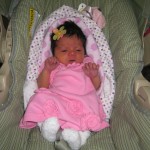 that afternoon we learned that her biliribbin level was too high (19.8) and she had gained all of 1/2 an ounce so "phototherapy" (aka: a light bed – or a bilibed) was ordered.
and that evening, we celebrated davey's birthday with my mom and dave's parents AND with an ice cream cake. we had an indoor bbq/picnic (hot dogs, hamburgers, potato salad, watermelon, etc.). davey received a spiderman helmet and horn to use with his new bike. the helmet is cool. the horn may magically disappear soon, though, as it's quite obnoxious.
on monday, samantha's weight had increased 1.5 ounces and her biliribbin level had decreased to 15.4, so there's hope that today will be the final day of bilibed use for baby alexandra.