here's a *new* final "Family of Four" photo taken on Sunday afternoon at dave's parents' house: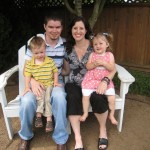 so in 24 hours i will almost be the mother of THREE children. under the age of 3. dave and i will almost be outnumbered in the parents-to-children-ratio. i will almost begin anew a schedule with a newborn (who eats every 2 hours). i will almost have met my sweet Baby Daisy' and you will almost know her true name.
by the end of the day on Tuesday, samantha will no longer be my "baby girl." davey will have TWO little sisters. samantha will be a BIG sister. i will no longer be pregnant (most likely ever again).
i am terrified. i am excited. and i am as ready as it's possible to be when you kinda get to CHOOSE when to have your baby. hooray for being induced! hooray for no longer WAITING and WONDERING if/when this little girl will make her appearance. hooray for sweet little bundles of baby wrapped up in blankets all snug and cozy.
and HOORAY for her life! for the reality that we get to celebrate her life! that our God is a mighty God who can heal people before they are even born. i am eager to hold His precious miracle in my arms. and to share her with you. so just 24 more hours until it all begins…..
**we have to check in at the hospital at 5:30 a.m. on Tuesday July the 13th. my body is "ready" so they'll simply start me on Pitossin to get the contractions going. once those have regulated, they'll break my water. and then, the thought is that Baby Daisy will make her arrival within an hour or less. the process could take several hours. or it could take all day. i'm hoping she'll be born by the early afternoon. i'd REALLY like to be released to head home on Thursday the 15th so we can have an immediate family birthday dinner for Davey, who will turn THREE on Thursday. please continue to keep us in your prayers!