some of you have heard me joke that my son looks like his daddy… samantha looks like her auntie rachel (dave's sister) and alexandra looks like uncle jeff (dave's brother)… so where are MY kids?
but then i found this photo on my phone, taken with the hipstamatic camera application: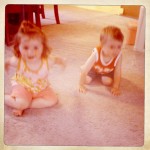 the app is cool b/c it makes each photo look vintage. combine the vintage-ness of this photo with samantha's hair style and i'd SWEAR it's a photo of me when i was little. i kid you not.
so i'm pleased to say that i FINALLY see some of ME (physical attributes) in one of my children!
then on sunday, as a family, we went for a little walk around the block. samantha wore her tutu (a gift from auntie rachel).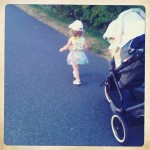 i love that the word "tutu" is part of her daily vocabulary now!
and here's our little man on our family walk: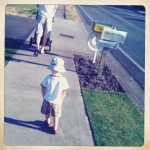 i love that he enjoys walking along with his hands in his pockets!
p.s. i know the photos are blurry. it's part of the "charm" of the iphone application. for more info/insight about this iPhone application, see dave's blog post HERE
totally unrelated to the above:
* saturday was dave's company summer picnic. followed by a visit with uncle sterling & auntie rachel. followed by a partial family dinner at dave's parents' house.
* on tuesday, alexandra turned 2 weeks old. she's up to 6 pounds, 9 ounces – ALMOST back to her birth weight. and the doctor is pleased with that since the sweet girl had to spend two days on a light bed. i have to take her back next week for a weight check but there's no major concern. additionally, it was our anniversary. we did nothing to celebrate.
* on wednesday, samantha had her (VERY BELATED) 18-month check up (she's 21 months old now). she weighs 30 pounds and is 35 inches long. that puts her in the 95th and 90th percentiles. yes, this is the kid who says "eat, eat, eat… yummmmmmm" when she sees a commercial about food. or when we say "kids! it's dinnertime!" additionally, it was dave's birthday (the big 3-1) and the kids and i delivered cupcakes (48) and brownies to his office.
* i'll have davey's 3-year stats next week wednesday
* this morning i get to take a peek at a typewriter. (the one i previously shared is, unfortunately, no longer available. sigh). apparently there are actually THREE typewriters for me to peruse. i'm quite excited!
* this morning i also get to price items for a garage sale. not my items, but my friend's items. pricing things is my 2nd favorite garage-sale task. wheeeeee!