"Good things come to those who wait."
it's a saying i've heard often in my lifetime. today, i'm reflecting how true that is for me. with both big things and small things.
a small thing like THIS is making me happy today. my friend's mom has one of these and i'm excited to purchase it from her and use it in my craft area! i've been wanting a vintage typewriter for awhile now… i think this one is pretty cool.
and you already know that we waited quite awhile for this one to arrive: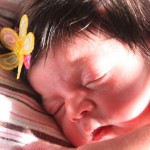 and now i'm waiting, patiently, for potty training with davey to resume and with samantha to begin. my goal: before the end of the year. we have just under 6 months. i think it's possible. very, very possible. but i need to get my "mama to three" legs under me first. potty training can't be easy when you're nursing a newborn every 1-2 hours!