totally unrelated to this post, here's a photo of samantha from a few nights ago: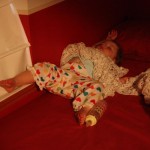 she just cracks me up… especially when she's sleeping!
and did you know that samantha can now open doors by herself? yep. SCARY! this is actually turning into SOMEWHAT of a good thing because she's less inclined to wake up davey now and instead she'll simply open the bedroom door (in the morning or after her nap) and go find nana. the PROBLEM with this scenario is when she's up at 7 a.m. or when she cuts her own nap short. but we will continue to persevere through the "shared bedroom" arrangement to find out what works best for the kids and for us.
so today i am 38 weeks pregnant. significantly farther than with either of my other pregnancies (2 full weeks in Davey's case and 9 days in Samantha's case).
for those of you who don't know, dave and i did head to the hospital on sunday night to try to have this baby. we left home a little after 9 p.m. and we were released from the hospital around 11 p.m. (so we were there for less than 90 minutes). my contractions weren't regular or strong enough to keep me. and i was still only dilated to 3 cm, which is about where i was at my office appointment on friday. i did learn some new information: contractions (especially false labor ones) are often the strongest from about 9 p.m. to 2 a.m. And that was definitely the case with me for most of the weekend. this means that unless i'm in significant pain (or if my water breaks), i will no longer consider making a late-night trip to the hospital for fear of it being false labor. additionally, we learned that there were 18-20 babies born at our local hospital on Saturday & Sunday. that's a LOT of babies for one small hospital to manage!
i will admit that i have had to do a MAJOR mental adjustment, as i can no longer tell myself "today is the day" since i've been wrong so many times already! i am now going to simply assume that this baby is NOT going to make her grand appearance until next week when my OB will be willing to induce. and if she chooses to arrive before then: BONUS!
my biggest prayer concern right now is for this thursday. we're scheduled to go back down to Seattle for another ultrasound – "just because." and i REALLY don't want to make that journey. neither does dave. so i'm planning to ask and BEG (if i have to) at my local appointment today if there's anyway that they'll let me cancel that appointment. the thought of getting up at 5 a.m. to drive 2+ hours for a less-than-one-hour appointment and then drive 2+ hours home when i'm 38+ weeks pregnant does NOT sound at all appealing. not in any way, shape or form. and what if i go into labor en route? i do NOT want to deliver this baby in seattle. i just don't. i've got the green light to have her up here and that's what i'd like to do. i might have to do some fancy talking today, but i'm going to give it my best shot.