thanks to my dear friend, Julie Ball, i FINALLY am the PROUD owner of a SUPER COOL typewriter:
and i got it for only $15!
this is the SAME Julie who saw a brownie movie camera on her recent trip to Minnesota… and she called me from that antique store to see if i wanted it (um, YES!) and she carried it all the way home for me. she's the same Julie who took me to garage sales and the thrift store AND the antique store on my last Saturday before Alex was born. and she's the SAME Julie who found a FREE polaroid camera that day in front of the thrift store (and she let ME have it)! she has also done so many other wonderful things for me and with me in the 4 months that i've known her. Julie, i've said it before and i'll say it again: i don't deserve such a wonderful friend! :)
while out at some garage sales yesterday (with all three kids in the car, i would like to add!), i found some other fun treasures, too: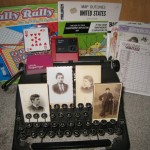 i like the number pieces and the paper tally sheets in that game (back left). the playing cards are SQUARE and they were only a quarter, cool find! normally i avoid old photos, but the ones in the typewriter keys were so cheap i had to have them. i'll probably print some of my hipstamatic photos and glue them over the portraits of random people. the yahtzee scoring tablet was in a FREE pile in front of the thrift store. that cute camera was only $1. i've never seen anything like it before. but i figured i might as well continue to add to our (rapidly growing!) camera collection. and that maps book in the back? yeah. here's that baby: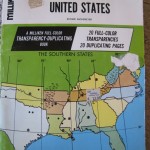 so cool. transparency maps of the USA (and areas of the USA). plus copies of the maps on stuff as thin as tracing or rice paper. just so darn cool! (and only a quarter, too)!
i also purchased the usual: jeans and shoes for my kids (too big for their immediate use) and a book for Davey (thomas the train). but you saw the things that made me really excited. those photos above. mmmmmm. makes me want to go and play in my craft space!
so that was yesterday. i wonder what today will bring?