it's rainy and dreary here (even though it was supposed to be nice and sunny today). so let's talk about happy things… 10 things/people that make me smile (in NO particular order)….
1. my kiddos. last week saturday, davey got his hair cut. i wanted a summer 'do so i wanted it short enough to spike…. here he is in all his short haired glory: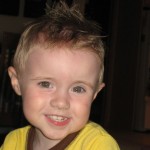 it took me a few days to get used to seeing him with his hair so short… initially he just looked so much older to me! but now that i'm used to it, he's back to his usual self (in my brain, at least) and i adore his silly grins and poses for the camera!
as for samantha, she's still a complete individual with a mind of her own. the arrival of Baby Daisy is going to be a bit of a rude awakening for her, we think, but in the long run it'll also be really good for her. despite what she thinks, the world does NOT revolve around her! :) here she is in daddy's shoes and her new (4T and way too big) raincoat, purchased last weekend for $1 (i did not manage to get it put into her closet "to grow" bins before she found it!):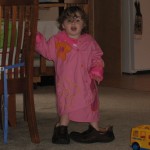 i LOVE this picture b/c it's so rare for me to look at samantha and say "she looks so little!" she's as big as her brother (maybe a few inches shorter) and at 20 months, she's wearing size 2T clothing (and has been for at least 2-3 months now), so "little" is not a word that most people use when they see my Monkey-Moo!
2. thinking that bed/couch rest might be ending soon (i should find out early next week).
3. KNOWING that there are people around the country AND around the world praying for sweet Baby Daisy – and KNOWING that God is hearing the prayers of His people and is ANSWERING those prayers!
4. friends. i've had lots of friends love on me (and my family) over the past few weeks. meals, phone calls, cookies & other tasty treats, visits and more. i am very, very blessed.
5. good deals. found a twin bed frame on craigslist this week for $15. dave'll pick it up today and we'll move samantha into davey's room this weekend. then we can get the nursery ready for daisy (aka: re-assemble the crib).
6. pleasant doctors. i'll admit it: when i first learned that my OB, Dr. Tu, was moving back to Seattle, i was VERY upset. she delivered both davey and samantha. i LOVED her. i had NO DESIRE to go to BOGA (Bellingham OB-GYN) or to the two other OB doctors in Bellingham. seriously – our options are limited here. but i've been SO THANKFUL for dr. mallory as he's walked with us through this whole "situation" with Baby Daisy. it was actually a mistake on my part to list Mallory as my OB (i meant to say "mora" but i kept getting the two confused) but God knew. Mallory is the best fit and he's super optimistic. i'm grateful for him!
7. strawberries… local, fresh, early strawberries are being sold already in little stands here. i can't wait for the really good, peak of the season strawberries. i will gladly suffer sores in my mouth for those sweet, tasty bites!
8. fast food. i'm loving it right now, which is NOT normal for me. McD's, Taco Bell, Arby's…. mmmmm!
9. Thai food – i love it when Dave has the energy, time and ingredients to make me Chicken Pad Thai and/or Prik Kingh Curry. so yummy!
10. flip flops. 'nuf said!
what things are making you smile these days?