today is saturday. that means i went to some garage sales. and i did that yesterday, too. and i scored pretty big, i think. between the two days, i found around 50 items of clothing (for Daisy, Samantha and Davey) for under $18: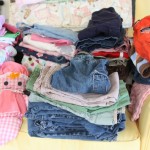 including a thomas the train costume for davey: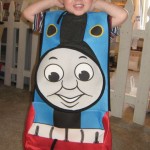 (i think he likes it!)
oh yeah – do you see that pink & white doll in that clothing photo? that's Lolly the Dolly. she's made by Fisher Price and is from 1975. When I was just a few weeks shy of turning 1 (so at Christmas), my Uncle Jim (mom's younger brother) and Aunt Jeannie gave me a doll JUST LIKE THAT. she's a doll/rattle. I actually still have her. when we were last at my mom's house (almost 2 years ago), i brought home my Lolly the Dolly. i've never seen another one. ever. until today. at a garage sale. she was pretty dirty. and she was only a dime. seriously. a dime. so i brought her home, put her in the washing machine and checked on e-bay. there's one listed right now for $20 but the sale has no bidders. so i'll hang on to her for a little while longer.
Davey also scored a Radio Flyer scooter: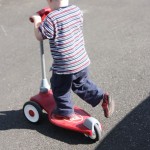 and not to be left out, samantha scored some new sandals: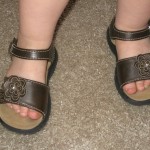 (which she wanted to wear IMMEDIATELY and wore for most of the rest of the day!) AND she scored a new doll: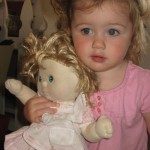 Hey Jenn, are you reading this? do you recognize that doll? it's a "my child" doll (i remember them from the mid-1980s…. my friend, Jenn, had one… i think her name was Jamie?). i bought the doll for nostalgia reasons for ME, but she was only a quarter (these dolls are selling for around $20 on ebay right now) and she washed up quite nicely in the washing machine.
i found a lot of scrapbooking goodies (ric rac, trims, buttons, etc.) for good prices: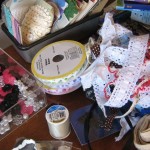 and a new bag: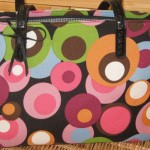 do you think i can use it as a purse? it's actually a diaper bag. but i fell in love with it. and it was only a quarter. i kid you not.
even Dave wasn't left out of this weekend's purchases. I added to his (our) camera collection with a $1 polaroid camera (including flashes!):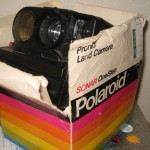 in addition to all of those items, i also found a few children's books, some children's DVDs, a new belt (for my post-baby stomach), the old school game of Memory, an old set of children's animal dominos (cards, not tiles), some playing cards (perhaps another matching memory game?) from my childhood, some shoes for Daisy and another pair of sandals (white) for Samantha, some good condition Ball jars for my friend, Julie Ball and I can't remember what else! It was a successful garage sale weekend, i believe. and 95% of the items are already put away (and the clothing has been washed)! so that's a major success, yes?
and for those of you keeping tabs on me, i did have an OB appointment yesterday. simply another non-stress test (test #10 in Bellingham) followed by an appointment with one of the partners. no exam (so i have no idea if i'm dilated further than 1 cm, which is where i was about 5 weeks ago). but i am to continue with twice weekly visits in Bellingham. and at 39 weeks, if i'm still pregnant, then the Bellingham doctors will think about inducing me. seriously? 39 weeks? is it actually possible for me to make it THAT far into a pregnancy?
to those who have been praying with me (for months) that i would deliver on Wednesday, June 30th, PLEASE STOP! seriously! i'm not a fan of the doctor who's "on" for deliveries that day, so i really do NOT want to be in labor on wednesday. my OB is on call on Monday, so that would be fine. Tuesday would be okay, but not preferred. and i'm not sure who starts on Thursday, but at this point, i REALLY want MY OB have the opportunity to deliver Baby Daisy, so we're shooting for this Monday (the 28th) or sometime after Wednesday (i'm not sure when he's on call next, but i'll find out this week)!