over a week ago we celebrated my father-in-law's birthday (this year it was the day before Father's Day). we had a family dinner (only Sterling & Rachel were missing), followed by cake, ice cream and presents. in an effort to make it EVEN MORE festive, my mother-in-law purchased "sparkler" candles. those suckers are NOT easy to light. i think we had 7 people (including the birthday guy) working on getting them all lit!
(then again, it didn't help that davey kept trying to blow them out before they were all lit!)
but even if they had been "easy" candles to light, it still would've been a challenge because there were SO. DARN. MANY. to light: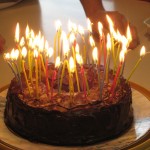 so not only did it take awhile to get the cake ready, but we sang the Happy Birthday song QUITE a bit faster than normal and it took MULTIPLE intakes of breath (by Grandpa & Davey) to blow out all of those candles: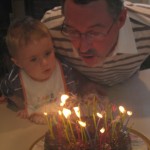 here's a look at the aftermath of the candle debacle: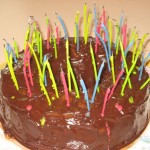 … colored wax everywhere! i LOVED the idea of the "sparkler" candles (and i'm glad mom purchased them!). i just wish the candle-making company had executed them better.
i don't remember everything that dad received, but i think he felt a little spoiled. then again, he's pretty easy to please. we bought him a grill set (tongs, scraper, etc.) since he & mom inherited our hand-me-down grill when we purchased a new one about a month ago.
so dad, my apologies that your birthday post is late, but know that we all love you and appreciate who you are and what you do!