our good friend Jessica has a new passion…. making "cake pops." she first made them for a bridal shower a month or two ago. since then, she has made MULTIPLE batches and we have been the happy recipients of some of these tasty treats!
the kids really like them, too: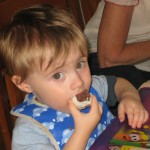 thanks, jessica, for sharing your tasty treats with us most times you make them!