who says happiness can't come in a box? i know my friend Julie would agree with me. she found some goodies at the thrift store this week and some of them came in a box and made her very happy! (heck, just looking at the photos of her boxed items made me drool with happiness and jealousy!)
but my happiness this week came in this box: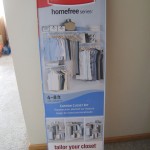 i picked out this happy box from lowes on sunday. it was $114 plus tax. i'm sure i could've ordered the SAME THING on-line from walmart for less, but i was under a time constraint. and it was money well spent, as you will soon see.
since my dear husband has MORE than enough to do around this house already with me still being on bed/couch rest (i really AM trying, but my organizing gene and my "nesting" instincts have gone into overdrive – i have too much time to THINK these days!), but i digress…. since Dave has more than enough to do already, i hired a friend to install it the system in davey's closet. i needed a way to be able to fit ALL of davey AND samantha's clothing in that ONE closet (and since each of them had a full closet of their own… i wasn't sure how well it'd work).
Jayson spent 2-3 hours moving the existing shelf (with hanging space) up a few inches and installing the new organizing system. when i got home from my OB appointment on Tuesday, he had the shelves and drawers in place!
by the end of the day, Davey's closet had been transformed into Davey AND Samantha's closet. And it looks like this:
i was amazed. impressed. and filled with glee.
and then i overdid it a bit because i was eager to get Daisy's clothing out of our closet and out of our room (it was in bags and boxes and bins ALL OVER our bedroom floor). so Samantha's closet (aka: the nursery closet – soon to be Daisy's closet) now looks like this: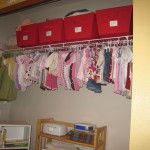 some preemie items, newborn items and size 0-3 are currently hanging in the closet. the dresser drawers are filled with baby jammies and baby socks and bibs and burp cloths and receiving blankets galore.
our bedroom still has some things of Daisy's that need to get moved to her room. new clothing items with tags (i'm waiting to see if she's a preemie before we remove the tags and wash everything) and some "too big" items picked up at garage sales over the course of this summer. but those things will move in due time. for now, i feel like we're making progress in preparing our home for the arrival of this little girl.
this weekend we're moving Samantha's bed into Davey's room. then Dave can re-assemble the crib in the nursery. and then i think we'll be physically ready for Daisy's arrival.
and all this organization and satisfaction happened because of that one box. who knew?!