i know today is wednesday. and i titled the post "tuesday." that's because you all want an update from yesterday's doctor's appointment, right? yesterday was the "easy" day – just a non-stress test (NST) and a visit with an OB doctor. yesterday marked 30 weeks for this pregnancy.
results: no contractions while on the monitor. baby daisy has a strong heart beat and she was very active while i was on the monitor (around 20-25 minutes) – that's good, apparently. i'm still only dilated to a "1" which could be completely normal for me at this stage of pregnancy (i was never checked this early with davey or samantha) and it could be completely normal for a 3rd time mama (wow – that sounds weird in my brain!). but at least it hasn't changed since my appointment in Seattle last week.
my appointment yesterday was with Dr. Mora. he's not my listed OB, but i like him and the way my OB office works is you pretty much get whoever is on call when you go into labor. the only way to *almost* guarantee you get your own doctor to deliver your baby is if it's a scheduled c-section. but i digress….
dr. mora explained that they really would like me to deliver this baby in seattle, if at all possible. i'm not thrilled with that idea. not in any way, shape or form. i understand WHY. bellingham does not have a NICU (neo-natal intensive care unit) and if, after birth, they determine Daisy needs surgery or additional care, they would hate to have to take my newborn from me and ambulance or helicopter flight her down to seattle. the doctors want to avoid that at all costs, so they'd rather have me deliver in seattle. when i asked how that would POSSIBLY work (the bellingham doctors are "nervous enough" that i live in lynden and the hospital is in bellingham – apparently my records show that i deliver pretty quickly!) dr. mora didn't really have an answer. it would probably involve me driving down to seattle to be induced, which i really do NOT want. so i was honest with dr. mora and told him if that was the case, that i would schedule the induction for as late as possible (like 38 or 39 or 40 weeks) and i would simply pray that i would go into labor earlier than that (around 37 weeks) so i could deliver locally. not sure how he felt about that, but, to his credit, he maintained a straight face!
so that's the latest. i'll be back in the office again on Friday for an ultrasound (i'll have those once a week) and another NST (i'll have those twice a week) and an appointment with Dr. Mallory, my listed OB.
i apologize that i have no new photos of the kiddos. i have FINALLY moved my little point-n-shoot camera to the end table (next to the couch where i spend a LARGE portion of each day), so hopefully that will change. but for now, i can show you that i have a basket and a pile of things to read, photos to date, etc within reach: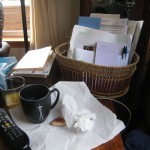 and i have a basket of cards all ready to write my "thank you" and "thinking of you" notes to people: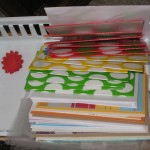 this way, i can pretend to be productive while i'm lying on the couch for many, many hours each day! :)
thank you for your continued prayers.