happy first day of may! today was filled with saturday goodness. wanna see some of it?
1. great garage sale finds (this entire lot was less than $20):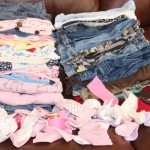 between yesterday and today i spent about $45 (not everything is pictured here) at garage sales. mostly on kids clothes. today was the find of the year: jeans for 10 cents. seriously. i bought a HUGE bag of clothing (including a pair of shoes for sam) for $13. nothing was more than $1. most things were 10-25 cents each.
2. here's a close-up of the receiving blankets: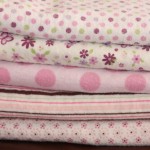 i was excited to find these (i bought two of that purple polka-dot one) b/c i never had any girlie ones with samantha (they make great "burp cloths" for babies who spit up a lot). it's something i knew i wanted for this next baby (though i'm praying she doesn't spit up like either of my other kids did).
3. a cool new toy for davey:
it's a john deere tractor toy that's also a book. he LOVES it. it was only 50 cents and i'd been wanting to get him one for a few years. so fun!
4. i also got to go to the library today: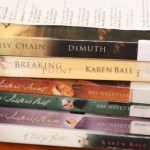 i love to read. and i've been trying to use the library more often, especially after we found out how much we pay for it each year in our property taxes! and i'm still glad i went to the library, even though a lady told me i look big enough to be having twins. which i'm not. you be the judge: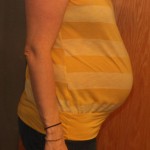 (i think i'll be 28 weeks along this tuesday. or maybe it's 29 weeks. i don't really keep track).
5. accidentally seeing what dave was working on today: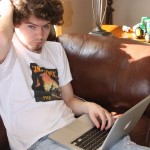 my book. my annual digital book that I usually get for Christmas. I'm hoping it's finished in time for it to be my Mother's Day gift. I've waited a long time for the 2009 version! :)
6. long(er) naps from the kiddos (always a blessing).
7. lunch made by my husband (Prik Kingh Curry) and plans to eat out (as a family) for dinner.
8. smiling and laughing kiddos.
9. not dealing with the pressures and stresses of potty training.
10. playing with some photos and paper thanks to this: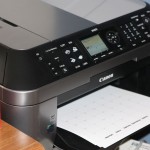 (my new printer purchased last weekend).
did you enjoy your first day of may?