it's monday morning. my kids are at play group with my wonderful and amazing friends (love and miss you all!). my mother-in-law has gone home for several hours. i'm listening to the dishwasher and the washing machine (neither are quiet entities). and i'm bored, bored, bored. and sick (thanks for the head cold, davey!). and restless. and my eyes hurt but i can't sleep.
but i am lying down on the couch (yea for my laptop)!
my appointment isn't until 2:10 this afternoon, so i doubt we'll have test results before tomorrow morning (though i could be unpleasantly surprised) since the test has to go to the lab and get processed.
but would you like to see what made me smile this morning? this little find: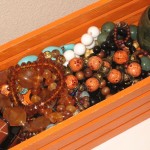 i'd been looking for something cute and shallow to hold my bracelet collection. and i stumbled across this wooden planter for 49 cents at the thrift store last week (again, BEFORE i was on complete bed rest). it's the perfect size. the perfect depth. an *almost* perfect color (it's a little "brighter" than my towels in my bathroom). and it fits on the back of the toilet – the exact (and only) location i really have to store those bracelets so they can be seen and worn.
see that big green bracelet in the top right of the photo? i found that at a garage sale (several weeks ago) for something ridiculous like 10 cents. seriously? 10 cents? why not just give it away?!

other things that have been making me smile lately (in no particular order):
- sam's smile that still contains 4 gaps because she has no eye teeth yet
- sam adding a few words to her vocabulary (elmo, candy, up, bye-bye)
- davey calling everyone his "fwiends" (even daddy, mama, grandpa, grandma, samantha….)
- davey talking about baby daisy in mama's belly
- davey and samantha taking turns kissing my belly (attempting to kiss baby daisy)
- feeling this sweet baby girl move like a crazy-child inside me
- having two hot meals provided each week
- having AMAZING friends offering to do anything and everything they can to help
- my husband. working so hard from waking to sleeping. doing the best he can to be daddy, mama, husband, employee and everything else that goes with each of those titles.
- the BEAUTIFUL bouquet of flowers delivered to my door last friday by a friend from church. i was on my way home from the doctor's office, so i missed her visit. i thought it was a bouquet from a florist… they're from her garden. GORGEOUS!
- knowing that no matter what happens, this baby girl is loved. wanted. adored. she is God's gift to us, for however long we are privileged to enjoy her. and knowing that no matter what the medical world thinks they know, God knows better. God is bigger than the doctors. He is a miracle worker. and THAT makes me smile!