is there anything tastier than BBQ? i guess it depends on your mood and your taste buds. my taste buds are currently "out of whack" because i have a head cold (courtesy of my son). but when we were in seattle the other day, after our appointments, we met up with dave's sister for lunch (she lives about 15-20 minutes from swedish hospital). we ventured to the main drag and planned to eat at a yummy mexican restaurant. but they're only open for dinner. and there, across the street, was this place: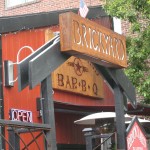 and despite my head cold (complete with stuffy nose and whacked out tastebuds), bbq sounded good. to all of us. so we headed into this cute place. inside, it looks more like a hole in the wall. and small. very, very small. we all ordered the bbq brisket sandwich. dave and rachel got baked beans as their side and i got homemade macaroni & cheese for my side dish.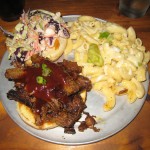 looks good, doesn't it? it was. what little i could taste of it. but dave, the expert on bbq ('cuz you know he went to college in texas for 4 years and ate a LOT of GOOD/REAL bbq there), said it was pretty good. he could even taste the smokiness in the meat (a major requirement for brisket, especially smoked brisket).
so if you're ever in west seattle, the brickyard is a worthwhile stop if you like bbq. we should've branched out to try the bbq pork and bbq chicken, but brisket isn't all that common up here and we're all still glad we ordered it!
FOOD BATTLE UPDATE:
many thanks to those of you who have shared your success stories and/or simply encouraged us through these food battles. removing chocolate milk from davey's diet has helped a bit. same with removing snacks. he's extra crabby still at dinner time (i think we eat too late for him but that can't be helped – it's all based on Dave getting home) but we're wrapping up lunch plates to save for dinner. thus far, we haven't had to wrap up a dinner plate to save for breakfast. i'm not looking forward to that adventure (breakfast – cereal – is the one meal he almost always eats without a fuss). but we're going to stick with it. we're still open for suggestions, advice, encouragement, etc. but for now, we'll keep plugging away.