since we were planning to be in montana for mother's day, dave had my gift shipped there. and then the doctors took the wind out of our sails. and my gift was going to be in montana while we were going to be here in lynden. our friends did their best to get it to us in time, but the post office didn't fully cooperate.
but on monday, around 4 o'clock, my gift arrived in our mailbox (the mail usually arrives between 2:30 and 3). and i LOVE it!
it's dave's scrapbook. volume 8 of "Our Story." (i usually get it for Christmas. last year i received it for my birthday. this year, mother's day). here's a peek at the cover: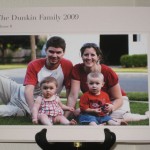 it's HUGE. twice as long as any previous book. filled with great photos. it makes me smile.