we've been blessed to have aunt mary (dave's mom's younger sister) here for the past 2+ months. aunt mary left this morning to spend a few weeks in California with her sons and her soon-to-be daughter-in-law. and then she'll return to denmark. and we miss her already! the kids will DEFINITELY miss her.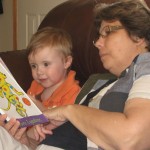 aunt mary used to be a teacher. and she had her own in-home day care for awhile. the kids both adore her. you will be missed, auntie mary!
but today we also get to welcome uncle tom back home! he's been at moody Bible institute in chicago, illinois since january 8th or 9th. davey hasn't forgotten him. hasn't stopped talking about him. this is much to uncle jeff's frustration. but on wednesday, uncle jeff had a small victory. davey even ignored grandpa's visit to chill in uncle jeff's lap and play with his iPhone. yep. uncle jeff is hoping this is his "in" to the "favorite uncle" title!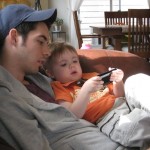 uncle tom might have a run for his money, but tonight he'll be babysitting the kids and i bet he'll be back in "favorite uncle" status before bedtime! :)
and 'cuz i couldn't leave you without a photo of samantha: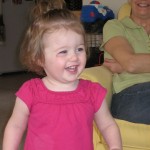 i love my kiddos and am SO THANKFUL for them. and for our family, both near and far away.