my kids are beginning to enjoy "dress up." whether or not they actually role play once in their "costumes," they are having a blast with random items i've purchased at Dollar Tree or things made by nana. i LOVE the imagination of a child… i had a very vivid and active one when i was young (heck, still do!) and i want to encourage this as much as possible.
yesterday was the day of PIRATES: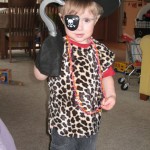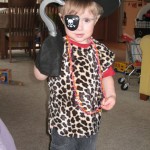 i love how davey is also wearing his bam-bam shirt from his halloween costume!
earlier this week, i'm not sure WHAT sam was, but she was having a blast wearing construction goggles and davey's super boy cape:
maybe it's time i start hunting down some princess dresses for samantha?