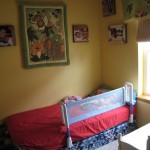 last night, dave took down the crib and moved samantha's bed from davey's room to her own room. and, like the big girl she is, she slept in the bed all night. after a few weeks, we'll move her bed back into davey's room and we'll set up the crib again for baby daisy. and hopefully samantha won't feel like she's been kicked out of her room.
dave and i peeked in on samantha this morning… to see if she was awake yet since we hadn't heard her and it was already 8 a.m. and there she was. sitting on her bed. playing with her toys. reading her books. and just waiting for us to come and get her. WHAT A DOLL!
also this morning, dave let davey pick out the shirt he (dave) would wear to work. davey chose this shirt for daddy (photo not from today):
davey explained that he chose this t-shirt for dave because it's a "staying" shirt. meaning, i suppose, that (normally) when dave wears this shirt, he stays home instead of goes to work.
update on baby daisy: i have an ultrasound and a doctor's appointment in seattle first thing tomorrow (thursday) morning. the ultrasound is at 9:15 a.m. the doctor's appointment is around 10:30. please keep us in your thoughts and prayers – not only for those appointments, but also for the drive there and back AND for the reality that we have to get up EARLY (we have to leave the house around 7 a.m.).