who could resist this face?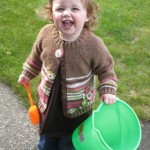 not i. not me. not… well, whichever word is considered proper English grammar.
and not Dave. and not Davey, even. and we're adding another baby girl to this family? the boys are IN TROUBLE!!!!
ADVICE NEEDED…. seriously.
so we've been working on potty training for a week now. a solid week. and he still won't tell anyone when he needs to go potty. he'll tell us immediately AFTER he pees himself (or 10 or 15 or 20 minutes after). and he doesn't like being in wet underwear or pants/jeans. but he won't initiate anything. and he FIGHTS IT hard when we tell him he needs to go sit on the potty (even if he's standing there holding himself, trying not to go).
is it too soon? is this a battle worth fighting right now? do i give up? i can understand that it takes time, but after a week, i thought something might click a little more than this. i had hoped for more. and if we DO give up on potty training, do we go back to diapers or go full-time to pull-ups?
so what advice do you have for me. reminder, he's 3 months shy of his 3rd birthday. so he's not THAT young for this activity.