today's the day. tax day. are your taxes done? i have had the unfortunate job of reminding dave several times over the past week that our taxes still aren't done. don't ask about his response(s)! you have to know that this is killing me, too, 'cuz i'm the type that used to do her taxes in february. granted, it takes us until about mid-March to get all the documents we need to do our taxes, but still, that gives us a month to get them done. so yes, it's killing me that our taxes aren't done yet.
i've been having fun in my craft area lately. for those of you who wonder how i find the time to scrapbook, here are my secrets:
- for the most part, davey and samantha play well together and i don't have to intervene a whole lot, though my craft space is in their play room, so i can at least monitor them (and my area is fenced off with a locking gate so they can't get in)
- i am "naughty" and i do give up doing some household chores (bathroom cleaning, dusting, vacuuming, etc.) to spend some "me" time. i don't do skip those chores all the time, just sometimes. and i'm okay with that.
- i have a dedicated area so i can leave unfinished projects out in the open and work on them in bits and pieces (10 minutes here, 25 minutes there, etc) so even if i can't complete a full layout at one sitting, i can still complete one layout over a few days.
- i don't agonize over the project. i don't second guess paper choice, embellishments, layout, design, etc. i just do it. i grab supplies and glue 'em down. i make it work. not every page is a favorite – they don't have to be – and that's okay.
- i have an Iris box labeled "layouts to do" and "mini books to do" and i add paper and photos to those boxes. when i'm ready to work on a project, i choose one and get to work. so that means paper and photos have already been "matched" but i still have to choose embellishments, photo placement, photo cropping, etc. the system works really well for me.
here are some of this week's creations…
the cheerio grasp: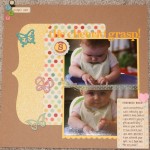 (i know the title letters don't match super well, but i like that they stand out a bit. and like i said above, no second guessing. once they were down, they were there to stay. unless i really DESPISE how something looks, i leave it).
two of a kind: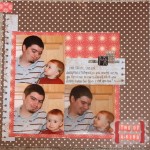 (i wish you could see this one better. the edges of the full layout are distressed – i opened a pair of scissors and ran the blade along the paper to "rough it up." the blue paper with the notebook punched edges was crumbled up and then opened and hand flattened. and the embellishment in the upper left corner? that red tag? yeah. that's from a stash tea bag. i though it was kinda cool so i snagged it from the counter at play group the other day. tee hee!)
family profile: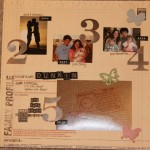 a few years ago, there's NO WAY i would've used ALL OF THOSE METAL NUMBERS on one layout. i would've saved them for ages and eons. and now? i've learned there's no sense in hoarding supplies. use 'em before you don't like 'em and sell 'em. that's my new motto.
i hope you're not getting tired of seeing my creations. i don't usually get many comments on my blog when it's about scrapbook layouts, but i feel the need to share them b/c i know there are a FEW of you who enjoy seeing them. and, frankly, i want to share them with you even if you don't care to see them! :)