(blist = blog list)
1. dave wasn't going to tell me how much our income tax refund is going to be b/c he wanted to buy something. he wasn't sure what, though. silly man. i did get the number out of him (in case you were worried) and i wouldn't be surprised if we had some new electronics show up in our home soon. i was joking that it would include an iPad for him (even though Logos is buying one for his department and he gets to use it since he's writing the app for it), a netbook for Sam ('cuz it's only fair that she get her own laptop now, too) and an iTouch for Davey ('cuz Dave is tired of letting Davey play games on his iPhone). seriously. this is my life. :)
2. my little girl really is growing up. i noticed it yesterday morning when she was watching Bolt (her all time, hands down, favorite movie – i think it's crack for 18-month olds b/c she's addicted):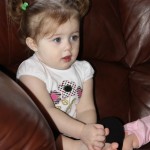 3. i've been loving all this sunshine and it makes me eager for warmer weather. ahhhh.
4. Davey and I have enjoyed a few opportunities to play some Candy Land. We have to do it when Samantha is taking a longer nap, so we've only played twice, but we've played several games each time. and he gets REALLY upset when we have to put it away b/c Sam is awake.
he's not great at "following the path" to find the next color, but he does know all his colors. and he knows what it means to get one or two squares on a card.
5. potty training is still a struggle. he's doing quite well but he hasn't yet told ME (or anyone) that he needs to go potty. and he still whines, complains and back talks when i tell him it's time to go potty (every hour, if not sooner). we've progressed from Pez treats to marshmallows (many thanks to grandma for that tip!). but even the promise of a marshmallow doesn't make him WANT to go on the potty. and so far, we've only done #1 on the potty. #2 has happened in a bedtime pull up and in his underwear. but not on the potty. all in due time, right?
6. today is our family celebration of dave's mom's birthday (which is this coming week). rachel & sterling will be up from seattle. jeff doesn't have to work on saturday so he and taryn can come to an earlier dinner. aunt mary (mom's younger sister) is here from denmark…. so other than tom, the family's all here! and she wants an easy meal… taco salad. sweet!
7. yet another year is passing with me NOT attending the skagit valley tulip festival. one year. that's all i ask at this point. one year where i can take lots of photos of BEAUTIFUL FIELDS FULL of tulips. pictures of my kids with the flowers. dave and i with the flowers. i've lived here for almost 10 years (and for 18 months i WORKED in skagit county every day!) and i've never yet been to the tulip fields. it makes me sad. i just know i do NOT have the energy required to haul my largely pregnant body AND my two kids to the fields… and chase after them. perhaps next year? yep. that IS what i say every year.
8. sunday will be dave's 3rd week taking church directory photos. did i tell you he's doing that? after our last experience with Olan Mills (it took them well over a YEAR to finish the pictorial directory!), we've decided to do it in-house. it's going pretty well so far, but i'll be glad when dave & i can sit in church together again (he takes the photos all during Sunday School and 2nd service and for another "while" after church is over….. so from about 9:30 to 1).
9. i skipped the "Stuff and Save" sale at Old Navy yesterday. my friend Jessica invited me along again and i was going to go (Samantha needs shorts for this summer) to get 50% off everything, but I already had afternoon (child-free) plans and i didn't want to go all day without my kiddos (especially while potty training davey and when it meant two different babysitters). so i stayed home with the kids and while they played, so did i. here's what i made: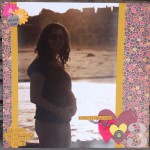 this is one of my favorite photos from our trip to san jose. my new friend Julie took it (though she's not all that proud of it – the lighting was difficult). but i love it. she changed it to sepia and added some actions and i printed it as an 8×12). and because i love this photo so much, it's now hanging (framed) in the hallway leading to the bonus room. i have 5 frames there and i (very rarely) change out the 12×12 layouts that are displayed in them. this one, i thought, was worthy of display.
and some close ups of the detail:
what do you think, julie? have i made you proud?!
10. i had an enjoyable afternoon with my mother-in-law and aunt mary yesterday. we enjoyed the antique shops in downtown Lynden. and it was wonderful. i spent less than $6 and bought some fun vintage goodies to use in scrapbooking: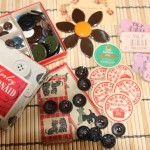 some old milk bottle caps, old buttons, a plastic/vinyl flower pin (very 70s), tickets and some really old scotty dog matchbook covers.
i also found a really good deal on 100 milk bottle caps, but i haven't convinced myself yet if/that i need them. and i can't buy just a few – it's an all or nothing purchase. so convince me…. do i want them? do i need them? does anyone want to buy some of them from me (and what would you be willing to pay?
i hope you have a happy weekend!