in my very, very long san jose blog post, i promised a post about Harlan the Marlin. Harlan belongs to my friend Julie Jacob (not Julie Ball who was in San Jose with me). Julie found Harlan at the thrift store in Lynden and fell in love. no one quite understands (including me). but she bought him, researched him (at first she thought he was a swordfish) and started taking him on adventures around town. and to neighboring towns. and then her brother and sister-in-law took harlan to utah with them. he loved the adventure. the park rangers were big fans. and so i offered to take harlan to san jose. i had no idea how big he was. or that he was porcelin. i was TERRIFIED that he was going to break in my carry on bag that was stored in the overhead bin, even though he was wrapped in bubble wrap (that's how julie delivered him to me!) and a plastic grocery bag!
but harlan had fun traveling to california. he did not get airsick. he did not get carsick. and he didn't complain. he was almost the perfect traveling companion! so without any further explanation of Harlan or the Julie who bought him, here's a glimpse of Harlan's adventures (or hijinks or shenanigans) in California….
Harlan liked the view from our first balcony… but i was a little afraid he'd try to jump…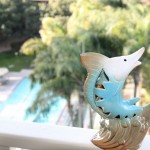 he also likes to be naughty and do the OPPOSITE of what a sign says to do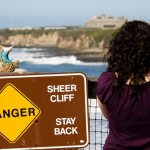 we both had a life-long dream fulfilled, though. we found some lifeguard towers and climbed one for a photo op. it wasn't the easiest thing to do with my baby belly, but we enjoyed the moment. we did hear police sirens while we were up there, though, and there are all kinds of signs posted saying "stay off," "do not climb," etc. oops!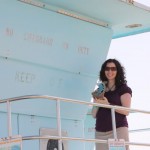 some locals snagged harlan but we were able to save him just in time!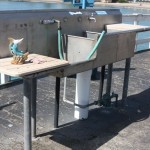 harlan liked the vintage camera section of the antique store(s) as much as we did! he tried to blend in and stick around for awhile!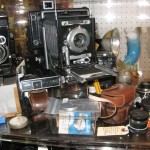 this time, he really DID try to make a break for the ocean…. but i managed to hold on to him…. just barely!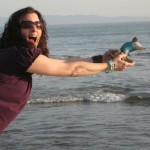 and then i buried him in the sand so he couldn't wriggle away again!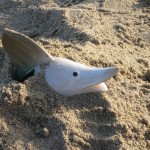 susan, erin and julie enjoyed their time with harlan. they helped him get into some hijinks, even!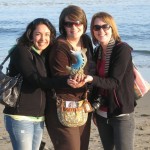 harlan liked the ribbon wall at the scrapbook store. but i was busy checking out and the other girls were waiting for me, taking photos and chatting and we almost left him there permanently!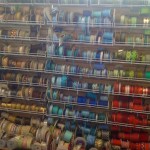 the little thief REALLY wanted my chocolate milkshake from In-N-Out. i was not a happy camper!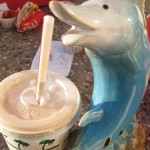 Harlan joined us for a tour of the Winchester Mystery House. You're not allowed to take photos while on the tour (especially inside). But Harlan and i liked this view and, technically, we were outside (on an open-door balcony) so i don't think we really broke the rules with this photo?!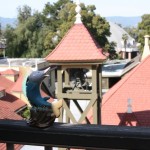 harlan wanted to prove he was a lover…. but i didn't have any quarters to spare!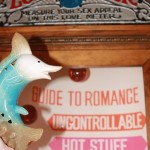 what you can't see too easily in this photo is harlan's new friend…. alien baby. susan bought him in the arcade at the Mystery House. (she wanted to see what the cook would make). apparently the cook (or was he the Chef?) likes to make little plastic alien babies and put them in tiny plastic bubbles with pink caps.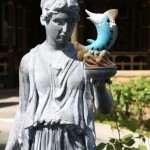 this sign was near our hotel. i have a photo of dave & bradley here. but we forgot to add harlan to that photo…. so dave and i had to stop there again later for another photo with harlan included.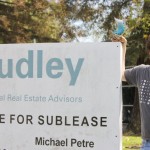 and since harlan was traveling with a tech-geek, he got to visit (the outside) of google…
…and the outside of Apple: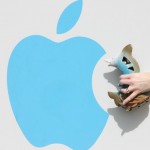 i made a mini book of Harlan's adventures for julie. i bought the stickers at the scrapbook store in san jose and the rest were items from my stash. i was able to mostly use items from my scraps bin to make the pages, which was even better! i took some photos of the book (and will share them below), but here's a link to julie's special saturday edition blog post about her Harlan book. and now for a few of my photos:
okay – so i realized that the photos i was going to share are the same as julie's, so rather than bore you, i'll stop there! :)