1. so i spent yesterday "recovering" from monday. it was a pretty rough day for me. davey went through about 6 pairs of underwear and 4 pairs of pants/jeans and at least 2 pull ups. it was not pleasant. i put davey into a pull up and we ran some errands in bellingham. i didn't have the energy to deal with pee or poo filled underwear.
after naptime yesterday, however, it was back to underwear. thanks to all your kind words, suggestions, advice, experience… i decided not to give up. not yet. we'll keep working at it. and one thing we bought at walmart was one of those potty seat rings. i let davey choose (we started out with a sesame street one and then he changed his mind so we had to walk back ACROSS the store to get the lightning macqueen one). so he can use the "little potty" downstairs and the potty seat ring upstairs.
he does get a marshmallow (or "smarsh-smellow" as he says) for going pee on the potty. but i think i'm going to add to that the bonus or a marshmallow if he's still dry when i do random checks. like my friend suggested – reward the good behavior!
2. i bought some little plastic baskets while at walmart yesterday and i'm embarking on some additional organization in the house. i have a few other small things to get, too, to help organize some drawers and shelves, but one thing at a time.
3. i thought of a "big ticket" item to add to our "wish list" for our income tax refund. and i'm hoping dave'll go for it. it is mostly for me ('cuz i'm the only one who really uses it)… a new printer. one that really DOES print on cardstock (ours is supposed to but it never has). one that doesn't jam if there are more than 10 sheets of paper in the paper tray. one that doesn't have ink cartridges that cost an arm and a leg (it's about $300 to replace all the cartridges at the same time – black & color).
4. did i tell you that on saturday i struck a deal at the antique store and was able to buy those 30 old milk caps at a slight discount? yep. so i splurged. and here they are, in all their glory: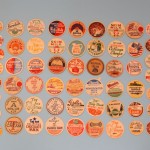 (side note: if you're unable to enlarge photos by double clicking on them, please let me know – i can pass the info along to dave and maybe he can carve out some time to work on my blog…)
they make me smile. and i'm eager to add them to my projects. mostly scrapbook layouts and mini albums. and i have some extras of a few of them. i'll do a give-away soon… and perhaps i'll sell some of anyone's interested.
5. and no matter what, i never tire of watching my two kiddos play together:
they both LOVE to take the cars, school busses and other toys with wheels and push them all around the house. though you can't see the cars in the above photo, they were a steal at the thrift store. only 49 cents for one and 99 cents for the other. they were filthy (had been outside in the rain & dirt for awhile) but some bleach water and scrubbing made them a very worthwhile purchase. and the plan is for them (the cars, not the kids) to move outside this summer.
6. and a very HAPPY BIRTHDAY (yes, today!) to my mother-in-law! we had a family party (minus Tom, who's still at Moody Bible Institute in Chicago) on Saturday evening. we had taco salad (mom's request) and aunt mary (mom's younger sister) was able to make a yummy, FROM SCRATCH, birthday cake. davey helped spit on the cake…. i mean, blow out the candles: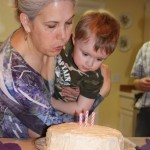 7. today is wednesday. that means it's thrift store day (they're closed Sunday through Tuesday, so Wednesday is the "BIG DAY" to snag great deals, though items are being priced and put out on the floor all day, every day). it's also the day my mother-in-law watches the kids for me for 3 hours so i can get some work done (job-work, not house-work).
what does today look like for you?