happy monday, i think!
dave and i sat down this weekend and created a list of items we NEED to get (like car repairs and expensive oil changes/tune-ups) and some things we'd LIKE to get with our income tax refund. i'm pleased to say that an iTouch for davey is NOT on the list. neither is a netbook (laptop) for samantha. and i'm pleased to say that an iPad for dave is on the list. and i'm pleased to say that our list has not "out grown" our refund amount (not yet, anyway). [we decided that the hospital bill for this new baby does NOT belong on the list.] i can't recall what's on the list for me. nothing super exciting or spendy; but i'm okay with that (for now).
did you know that i had 102 (glorious) minutes of CHILD-FREE time on saturday morning to enjoy some garage sales, the grocery store, a thrift store, the antique store and the library?! i found some good deals, including this: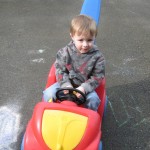 a plastic car WITH the long parental-use handle. ahhhh. it's the little things in life that make me extra joyful (and that save my back from too much pain)!
the birthday dinner/party on saturday night for my MIL was fun. exhausting for me, but fun. i'll share more details later.
yesterday was a BEAUTIFUL day here in lynden. not overly sunny, but warm and clear (enough) and while dave mowed the lawn, the kids played outside. and then sam did this: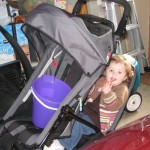 while davey rode around in the new car, she wandered into the garage and climbed into her seat in the stroller. we asked her if she wanted to go for a walk and she happily said "yah" in her sweet voice. so we loaded up and headed off. dave and i both thought the walk would be a quick one around our block. but we ended up going all the way to the park. we weren't fully prepared (no beverages, no wipes, no wallet for a side-trip to The Woods – a local coffee shop, etc.), but it was a fun adventure. AND davey STAYED DRY in his big-boy-underwear AND i (somehow?!) convinced him to go potty at the public restroom! woo hoo!
they both love the slide and the swings the most!
but back to the stroller photo – i still think it's SO FUNNY that she just climbed right into the it. and she just sat there and waited patiently. then dave pushed the stroller out of the garage and this is what i saw: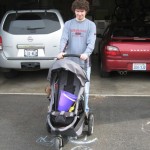 dave pushing a purple bucket?! tee hee. and then i saw her head poking out of the back. and i convinced her to clap (and therefore smile) for this photo: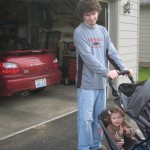 what a sweet little face!
hopefully you're looking forward to this new week. i've had a long weekend with lots and LOTS of braxton hicks contractions (very uncomfortable and sometimes even painful) but with such a great sunday behind me, i'm ready to start the week on a good note!