i took a little bit of "me" time during the kids' naps the other day. and i created this: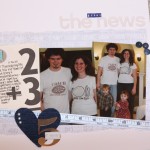 i know it's a bad photo. it was pretty hard to take, actually, since there's so much white involved. but i'm quite happy with it. i had fun with it, for sure! the photos were taken on thanksgiving day after telling dave's family that baby #3 was on it's way.
and the mood struck again a few days later during naptime (well, naptime for davey… crying time for samantha). and here's what i created: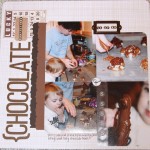 i enjoyed pulling as much brown as i could for this layout without overdoing it. i think i struck a pretty good balance.
and i even had time to start another page: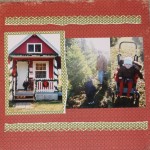 i can't wait to see how this one ends… it's already so different from how i thought it might look! (heck, i started with about 12 4×6 photos!)!