1. it's friday – HOORAY! it's the end of another month – how is it the end of April already? today the kids get to play with friends. and we'll visit a few garage sales (i'm an addict!). and it's going to be a good day. i'm deciding now.
2. today i get to price more items for the garage sale (i like watching items turn into dollar signs before my very eyes – kinda like those old school cartoons, ya know?). AND i get to go through samantha's too-small clothing and wonder what sweet baby Daisy will look like. act like. if she'll sleep. if she'll cry a lot. if she'll be easy-going. okay… i'll stop now. AND i get to spend time with my dear friend, Carrilee. AND i get to (finally) give her a birthday present (i won't tell you that her birthday was at the end of March)!
3. our "breather" day yesterday was just what i needed. we enjoyed our morning at home, minus a 35 minute adventure around town to fill the propane tanks and deposit a check at the bank. i worked a little more on editing photos to send them to costco. i sat around. i did some filing. it was low-key and necessary. ahhhhh!
4. i played with my new printer yesterday. oh yeah. did i tell you about that? last sunday, since the kids had runny noses (again!), we finally ventured out of the house after nap time. i wanted to stop at the craft store in bellingham for some items for Baby Daisy's baby book/album. and since costco is right there, in we went. and Dave bought me a new printer. just like that (our income tax refund arrived in our bank account). and i finally played with it a little bit. it printed on 14 sheets of regular paper without one single paper jam. no need to go in and clear it every 3 pages. AND it printed on cardstock. another 14 pages. and again, without a paper jam! it's the little things….
5. did i tell you we're putting potty training on the back burner for now? i'm frustrated with the lack of progress and the whining that ensued each time davey was directed to sit on the potty. and, quite frankly, i'm too tired to deal with all of the accidents. so it's back to diapers for him. and he's just fine with that…. so i will be, too. he wasn't motivated by stickers. or by marshmallows. or m&ms. or pez. or any other food item, toy, book, praise, encouragement, etc. so even though he can PHYSICALLY do it, i'm not going to push the issue.
6. monday is "laundry day" in this house. i only had to do 1 load this past monday. but yesterday – thursday (NOT monday), i had to do 4 loads! how did that happen? how did THREE ENTIRE LOADS appear in just 3 days? sheesh! (and it turns out there was a 4th load hiding on dave's side of the bed – but that's another story!)
7. i ate tuna TWICE this week. for anyone who knows me – REALLY knows me, knows that's a HUGE deal. but i promise, it wasn't that canned tuna fish nastiness that makes me ill. it was fresh ahi tuna. seared and served on a salad on sunday. and grilled last night. dave did a good job getting me to eat tuna. i'm still convinced that a tuna-fish sandwich will never be made in our kitchen. but ahi tuna is different. and acceptable.
8. our neighbors move out today. the newest ones. they just moved in last fall (they had rented out the house, however, for a good year and a half before they moved in). we're sad to see them leave but i'm eager to see who moves in… hopefully someone else we like?!
9. i got a letter from the OB's office yesterday. one of those generic ones where a nurse or office assistant adds your name and a doctor's signature by hand but the rest of the letter is simply photocopied. apparently, i'm anemic. no surprise there. i was with samantha. but i've been taking iron pills since i was about 12 weeks pregnant (i'm 28 weeks now). so i called the office and they told me to take TWO iron pills a day AND to make sure i take them with vitamin C and to avoid dairy (when taking the pills).
10. my baby belly is big. HUGE, i tell you! bigger than before. shirts that i wore all the way to the end of my pregnancy with davey and samantha are too small. sad. so sad. perhaps i should stop eating so much junk food? ;)
11. and though this one is older, it makes me smile: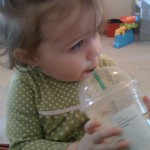 gotta start 'em young, right?!