what does $12.97 buy you at the local thrift store?
lots of goodies!
in addition to the pictured items, i also got 10 kids clothing hangars ($0.49) and a red truck for Davey (also $0.49).
i did splurge ($1) on this: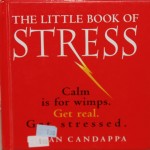 it reminded me of something Julie would buy. and she wasn't able to go to the store this week, so i bought it in honor of her. if nothing else, it'll make a good book to have in the bathroom basket (it's pretty funny) though i'm looking forward to trying to use it on some scrapbook pages! :)
see those three flexible metal muffin cups? i bought those to use in the Bento Boxes that Elizabeth convinced me to buy last month. I haven't used the boxes yet, but maybe this will be some added motivation?
ultimately, though, my best buy of the day was spending $1.98 for Candyland and Chutes and Ladders ($0.99 each). Two days ago, I spent $5 on Candyland at Walmart (I was patiently waiting for it to go on sale) and now I can return it. i think these are CLASSIC and TIMELESS kids' games and i'm excited that we own them both now. i've been wanting to play candyland with davey for a few months. the suggested age is 3 and up, so i'd been waiting, but i'm convinced he'll love it, especially since he knows his colors really well.