so on tuesday, i couldn't possibly stay in the house all day for one more day. so i loaded the kids into the car (they still weren't feeling well and davey still had a fever) but i had to get out. so we ran a few errands (using a double stroller, no shopping carts) and it felt good (for me). we even made it to Ross Dress for Less where i purchased a few casual maternity shirts. i LOVE new clothing, even when they're for fat bellies! :)
it was a short trip into bellingham b/c i had an "appointment" at home at 11:30. see, a few weeks ago, i put out a call on facebook for the name of a local ORGANIZATION consultant. i was ready to admit that my kitchen and home office needed help. LOTS of help. see, many of you know this is WEIRD. many of you know me well enough to know that i am pretty darn good at organizing. i LOVE it. and to some people, i'm an organizing guru myself. but i needed help. some fresh eyes, if you will. so one of my former high school students (now married and living back in lynden) offered to help.
we spent about 3 hours in the kitchen (we have to set another date for the home office!) making a few minor changes that should have a HUGE impact. the first, which i'm VERY EXCITED to share, is that for the first time in my LIFE, i have a BREAD DRAWER! see: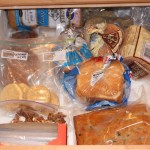 a drawer devoted to bread and bagels and english muffins and even some cookies! i'm SO excited about this! and i acknowledge it's super-special in our current kitchen b/c we only have 7 drawers. two of which are skinny and one of which is very, VERY shallow (intended for knives).
next, janelle corralled my spices. all of them. we had them stored in THREE places: a spice rack, a drawer and on a lazy susan. it was a mess. i knew it. dave knew it. and we knew it wasn't working. but we had no other suggestions. so janelle filled up our spice rack. extra/overflow containers got moved to a basket in the pantry. and all other spices (we have a LOT) got moved here: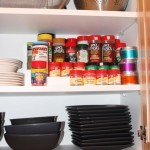 inside a cabinet. just above the other spices in the counter rack. genius, i know. SO nice!
so here's my counter now (i know, i should've taken a before photo, but i didn't):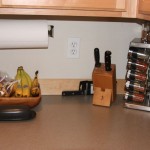 see that EMPTY space between the wooden bowl (containing the bananas, red potatoes, a shallot, and usually some onions) and the spice rack in the corner? that NOW EMPTY space used to be FILLED with all those breads you saw in the drawer. they were stacked on each other. falling over. and spilled off the front of the counter onto the floor. what a mess. and it's no longer a mess!
we made a few other minor changes… sorting and reorganizing mugs, tupperware containers, sippy cups, etc. i feel like i have RECLAIMED my kitchen… and i'm LOVING it!