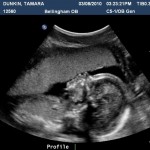 yep… it's a baby. a tiny baby with a profile that matches davey and samantha's.
but that's not what you want to know, right? well, how about this?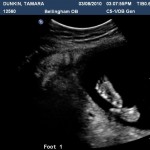 two legs and two feet (only one pictured) with five toes on each foot.
or this?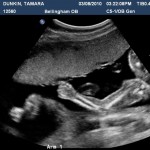 two arms with two hands and five fingers on each?
no? that's not what you wanted to know? well, to protect the FUTURE privacy of Baby O, i'll just tell you, rather than share photos….
it's a GIRL. we're having a girl. and while "Baby Olive" isn't necessarily her in utero name we're sticking with, it works for now ('cuz when we first realized we were pregnant, the baby was about the size of an olive, according to the baby books). so Davey and Samantha will have a baby sister in 16-21 short weeks!
many of you know that i was really hoping for a boy. but on the way to the appointment, i was waiting at a red light and i realized….. i would be happy with a boy OR a girl. no matter what the tech said, "boy" or "girl," i'd be happy. and content. and ready to love this baby. and within 2 minutes of starting the ultrasound, there were those 3 little lines. the 3 lines that prove it's a girl. and not a boy.
a girl. we're having another girl.