so we didn't go up to the snow on saturday b/c it was raining on the mountain. yuck. and we FINALLY returned to church as a family on sunday (first time in over 2 weeks). and i was all geared-up for this week to get back to normal, including play group, working, running errands, etc….. and davey woke up with a fever on monday. and his cough isn't getting better. and so it goes. i believe we're on week 8 of various ailments in this house. spring can't come soon enough for me.
but in the meantime, we have had lots of laughs and fun around this house. the kids love to empty out the space under the TV and components in the bonus room and sit in there. it's like their own little clubhouse: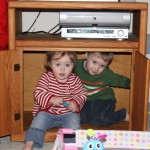 (side note: we needed a "change" last week, so i re-arranged some toys in the bonus room. my apologies because i have no pictures to share. but let's just say it's been a good change. even dave likes it!!!)
and to continue with photos of FUN, tonight, they got a horsey-ride from daddy: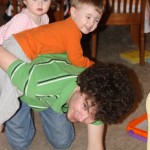 that's almost 60 pounds on dave's back (each child is at least 28 pounds)!
so they might be a bit sick, but they are SO. DARN. CUTE! sam's current favorite thing to do is to climb on davey. sit on davey. hit davey. take his things and make him chase her. it's funny and naughty all at the same time. what a silly (and naughty) little girl!