many of you know that i LOVE to scrapbook. yep. love it. and don't do it quite enough most weeks. many of you also know that i have a HUGE stash of goodies with which to play. so i signed up recently to taken an on-line class called Something for Almost Nothing. it was only $15 and the PURPOSE of the class is to USE all those things i have stored away. i'm hoping to actually do several layouts or projects based on each prompt (we get three prompts a week – M, W and F).
thus far, i've only been able to play around based on Wednesdays prompt (class started on W this week). we were challenged to pull anything METAL out of our stash. personally, i LOVE metals on my sb pages. i use them all the time, but i definitely have some just "sitting" around and not being loved. so here's my layout, using 140 eyelets and brads: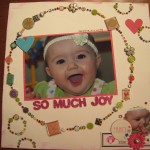 it took FOREVER, but i LOVE the end result. and, while i used up a number of specialty brads, i still have an ABUNDANCE of these things in my stash… so i think i'll be doing a page like this for davey, too!
friday's prompt challenged us to use paper scraps to make a border on our page. frankly, i'm still a bit motivated and inspired by metals… so we'll see what happens!