we might be "out of the woods." it's been 42 hours since our last episode with vomit in this home. no more fevers. it's beautiful and sunny outside and it's been in the 50s (and warmer), so i've been opening windows to air out the house. i need to give it a good cleaning again, but i'm lacking some energy.
unrelated to anything i'm telling you in this post, some kid photos:
(my kids love to climb into baskets and bins and buckets and just sit there. crazy kids!)
davey and daddy went on an adventure this morning – haircuts. Davey was LONG overdue for one. his last hair cut was in early July, before Uncle Jeff & Auntie Taryn's wedding! they both got trims, but davey sure had a lot "trimmed!" then they went to Starbucks for a treat. samantha and i stayed at home playing and watching the Olympics (i've been doing that a LOT lately – especially since we have some Canadian stations here, so we can practically watch the Olympics 24/7). but then i decided it was time to get outside in the fresh air and sunshine. so we headed to the garage and driveway. sam played with ride on toys and balls and rocks and bottled water and anything else she could find. i inventoried and reorganized the upright freezer and defrosted it a bit with a hammer. (i need to defrost that thing the correct way this summer!)
when davey and daddy got home, it was time for the kids to play outside and really soak up this beautiful weather (i saw on the forecast it's supposed to turn cloudy and rainy again on wednesday). i finished with my freezer project and moved on the "leaf removal" project. for whatever reason, our house, our deck, our side yards are LEAF CENTRAL for the neighborhood. it matters not that we have no trees. we still end up with several lawn & leaf bags full of leaves every year. there's a wind tunnel effect along the one side of our house. crazy, i know. so i cleaned the leaves off the deck (i wasn't overly ambitious – we'll just mow over the ones in the yard!) and dave loaded our yard waste onto our trailer (really for bicycles). then we had a family adventure out to tim & carrilee's house where we dumped our yard waste in the raspberry fields (owned by tim & clee but rented to a local berry farm) and emptied our burnables (the dead leaves, some wood, etc.) onto the burn pile. the kids and i enjoyed henry & jorja's swing set while daddy did the heavy (and smoky) work.
now, totally unrelated to anything i've shared in this post, here's a photo of the beautiful roses dave bought me for valentine's day (davey picked them out at the store):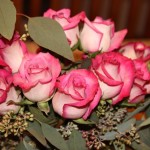 i got dave a package of Dove dark chocolates (solid, almonds and caramels) – one of his all-time favorites!