i almost forgot to show you my NEW HAIR:
i went dark. all over. i hadn't planned on it. i planned to get my usual cut. and my usual highlights. the same thing i've been doing for 6 years now. but as i sat in the chair, and really looked at my hair, i was pretty disgusted. somehow, somewhere, someway, it turned different shades (from top to bottom), including a very brassy, orange-ish color on the bottom. it was not attractive. so for the first time in my life, i went with all over color. SCARED! i certainly was. but i trusted brandi. and i LOVE it. it's darker than my natural color, but i like it. a lot. dave wasn't a fan the first day (tuesday – same day this photo was taken), but he's liking it more now. and i'm stoked. no more various shades of "natural." no more grey (hip hip hooray!). and something new! all good things.
additionally, i believe i told you i've been busy working on our Kenya 2006 album (finally). i had all the photos added and most of the journaling completed when i decided i needed to order more photos. so i ordered 133 more photos. (i only ordered 127 the first time around). so i had to pull out ALL the photos and start over. and i've run out of page protectors (i ordered more yesterday). but here's a sneak peek at the inside cover: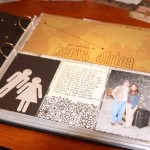 those "people" on the lower left are made from chipboard. and i've since painted them. i'm excited for the final product of this book. my first goal is to add all the photos. then go back and add the journaling and some decoration/embellishment here and there. basic. easy. fun. and finally (FINALLY!) in progress on it's way to completion. WHEW!